LORAN STATION MONTAUK POINT
Research Facility
Station Information
Site Survey:


Construction Date:
APR 1941: Research/LTS Facility

Constructed (equipment installation) by:



MIT Division 11 & USCG enlisted personnel

Research Facility:
Established:
Commissioned:



APR 1941 - 01 OCT 1942 & fall 1943 - 1946
01 OCT 1942
01 JAN 1943
Decommissioned:
Disestablished:
JUL 1943
1946

Operated by:


1941 - 1942 MIT
Spring 1942 - 1946 USCG


Project code name:



Unit Identifier:



MIT/U.S. Navy/USCG Unit 02

Mail address:


AKA:



MIKE
Personnel Allowance:
Spring of 1942 - CG enlisted personnel reported aboard


Station Mascot:



Station information:
APR 1941: MIT signed lease for use of an abandon USCG Life Saving Station property with the U.S. Treasury Department.

MAY 1942: With U.S. Navy permission, MIT Mr. Donald Fink traveled to Canada to get an agreement with the Canadian Government to establish two stations in Nova Scotia. Canada agreed to this however U.S. must furnish the technical equipment and training. Canada was to provide for the two Newfoundland stations also however the USCG was tasked to build and staff in 1943 as there was a storage of Canadian personnel.

JUN 1942: USCG personnel started to report for assigned duty.

17 JUN- 17 JUL 1942: The Long Range Navigation (LORAN) trials were conducted which the U.S. Navy accepted to continue with the development of the system.

01 JAN 1943: Under direction of U.S. Navy, US Coast Guard assumed the responsibility of installation, staffing and operational control of all Navy loran stations.

01 JUL 1943: Standard loran transmissions relocated to Siasconset, Nantucket, MA. This enable better lines of position. Montauk Point continue in service as a research facility.

Fall 1943 - DEC 1944: Expermental Synchronization Skywave (SS) transmission tests were conducted by MIT scientists and English technicians.






Station Operations
Test Facility & LORAN-A LTS
41 01 33.98N - 71 57 49.59W
(The position was determined by a visit to the location in 2017)
Chain:
NORTH ATLANTIC WEST

Station Letter designation:
"M"

Radio Call Sign:
N/A

Declared Operational date:



Operations terminated:
011800Z JUL 1943 as a LORAN Transmitting station

Station Operation:
Double MASTER (DM)

Station pair:
Loran rate:
Coding delay:
Baseline:

Station pair:
Loran rate:
Coding delay:
Baseline:


MONTAUK (M) - FENWICK (S)
1L0
N/A
Approx. 209 Nautical miles

MONTAUK (M) - BARRACO (S)
1L1
N/A
Approx. 324 Nautical miles


On-air testing date:
1L0: DEC 1941 - OCT 1942
1L1: SEP 1942

On-Air:
1L0: MAY 1942 16 hour service/JUN 1943 24 hour service
1L1: 01 OCT 1942 16 hour service/JUN 1943 24 hour service

Off-Air:
1L0: 011800Z JUL 1943 service relocated to Siasconset, Nantucket
1L1: 011800Z JUL 1943 service relocated to Siasconset, Nantucket

Monitor Rate:


Equipment:
1942: Bell Lab Timer

Radiator:


Documents:
Pictures: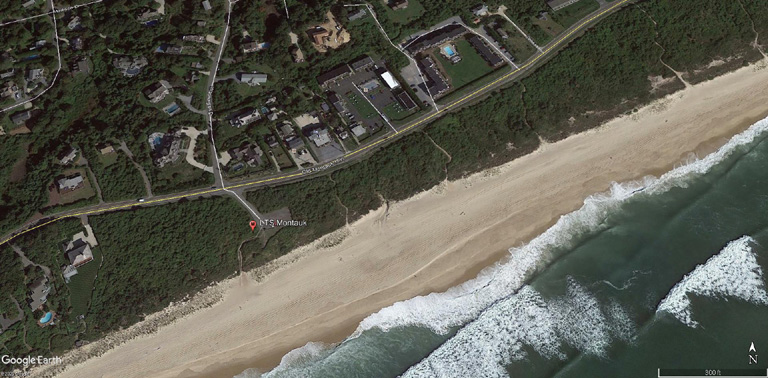 (courtesy of Google Earth)
Location was identified during a 2017 trip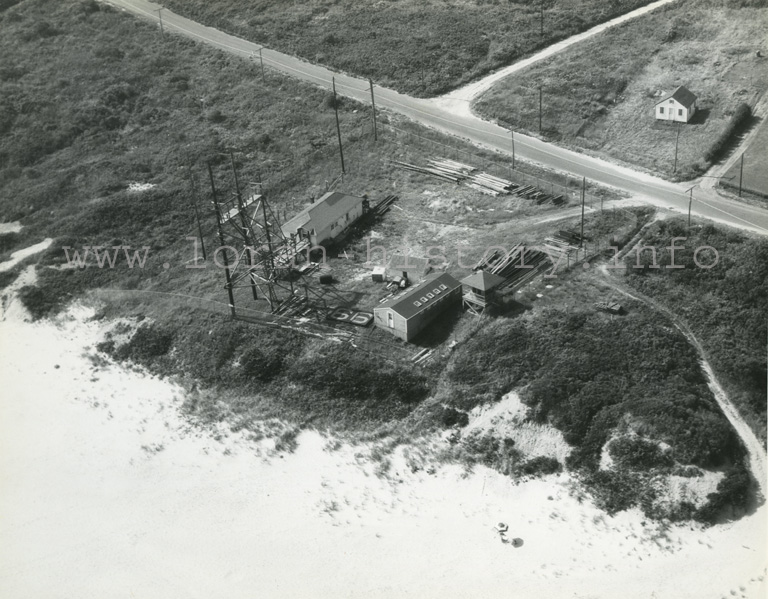 (courtesy USCG c./SEP 1945)