LORAN STATION SELLIA MARINA
Station Information
Site Survey:
FEB 1958

Construction Date:
25 JUL 1958 - 03 FEB 1959

Constructed by:
Italian Contractor ($417,000)
03 FEB 1959 - Construction completed

Established:
Commissioned:

1958
06 FEB 1959


Decommissioned:
Disestablished:



15 DEC 1994
15 DEC 1994
Operated by:


USCG

Station Project code name:
TACK 1

Unit Identifier:



1970's: 96-40112
Mail address:
FPO Navy 566
1967 FPO New York 09520

AKA:



1959 - 1977: SIMERI CRICHI
HAM Call sign:





Personnel Allowance:
1967 2 Officers; 23 Enlisted

Station Mascot:
1976 - King Omar
1988 - Bob, Akemi


Other information:
11 AUG 1958 - Government of Italy owned cosigned to U.S. Gov't 93.3 acres

16 FEB 1960 - Site survey declassified

05 MAR 1960 - An American transport C-119 crashed into the sea. All survived, 17 sent to a radar station nearby Sellia Marina. LORSTA?

27 APR 1962 - Site survey Part III declassified

1977 - Station name changed - original station name was of the nearby railroad station

19 JUL 1980 - A mystery fighter plane crashed into nearby mountains. The pilot was killed and rescuers who found his body said he wore a helmet with Arabic writing on it.

1986 - Station became Italian control with a Commander in charge of the station however not the mission or function.

010001Z JAN 1994 - Station and operations transferred to the GOI


Commanding Officers:
1959 - 1959 LCDR Alfred P. Manning (JAN - NOV)
1959 - 1960 LT Thomas C. Volkle (NOV - NOV)
1960 - 1961 LT Aristedes K. Manthous (NOV - NOV)
1961 - 1962 LT Charles S. Mincks (NOV - ?)
1962 - 1963 LT Hugh D. Williams
1963 - 1964
1964 - 1966 LTJG Louis M. Casale (SEP - ?)
1966 - 1968 LTJG George A. Blann
1968 - 1970 LTJG James A. Fetters
1970 - 1972
1972 - 1974 LTJG William E. Jones
1974 - 1976 LTJG Arthur R. Bulter (? - MAR)
1976 - 1978 LT George H. Detwiler (MAR - MAR)
1978 - 1980 LT Perry W. Campbell (MAR - ?)
1980 - 1981 LT Gary R. Westling
1981 - 1983 LT Phillip L. Stephenson (? - JUL)
1983 - 1985 LT William L. Bryant (JUL - JUL)
1985 - 1987 LT Ernest A. Gibson (JUL - JUL)
1987 - 1989 LT Billy E. Erickson (JUL - JUL)
1989 - 1991 LT Willem M. Lange (JUL - ?)
1991 - 1993 LT Patrick R. Dowden
1993 - 1995 LT Thomas E. Crabbs ? - 31 DEC 1994 (Decomm)


Station Operations
LORAN-C
Chain:
MEDITERRANEAN SEA

Radio Call Sign:

NCI-2

Operational date:
Declared Operation:



250001Z MAR 1959

Operations terminated:


312400Z DEC 1994

Station Operation:


Single MASTER (SM)

Loran Rate:
Function:
Baseline:



Loran Rate:
Function:
Baseline:


SL-4
"M"
M-X: Approx. 500 Nautical miles (Matratin)
M-Y: Approx. 529.5 Nautical miles (Targabarun)
M-Z: Approx. 647 Nautical miles (Estartit)

SL-1; 7990
"M"
M-X: Approx. 529.5 Nautical miles (Kargabarun)
M-Y: Approx. 500 Nautical miles (Matratin)
M-Y: Approx. 284 Nautical miles (Lampedusa)
M-Z: Approx. 647 Nautical miles (Estartit)

On-air testing date:
01 FEB 1959 - Low power

On-Air:
SL-4 (M) 250001Z MAR 1959
SL-1 (M) 1967
7990 (M) 25 FEB 1975

Off-Air:


SL-4 (M) 1967 Change of rate
SL-1 (M) 25 FEB 1975 Changed Identification of GRI
7990 (M) 312400Z DEC 1994 Station operation, maintenance and control turnover to GOI

Monitor:
NOV 1977 - Chain monitor established at Sellia Marina utilizing the Austron 5000 for control of chain testing. Chain SAMs shutdown in early part of 1978.

~1981 - Remote monitor established at Cape Rizzuto

Equipment:
1959 - AN/FPN-38/39 sn: 2 & 5 240Kw
1975 - AN/FPN-54 LRE installed 200Kw
1987 - AN/FPN-39 modified - reduced filament voltage - 165Kw


Antenna Type:
625ft TLM Stainless Inc. Model 1100 1958 - 16 APR 2008

Fred's Place Reunion Hall: OLD NEW
Awards:
Coast Guard Unit Commendation

01 APR 1970 - 30 APR 1970
Coast Guard Meritorious Unit Commendation

01 MAR 1978 - 31 OCT 1978
29 OCT 1985 - 05 JAN 1987
Coast Guard Overseas Service Ribbon

Documents:
Pictures: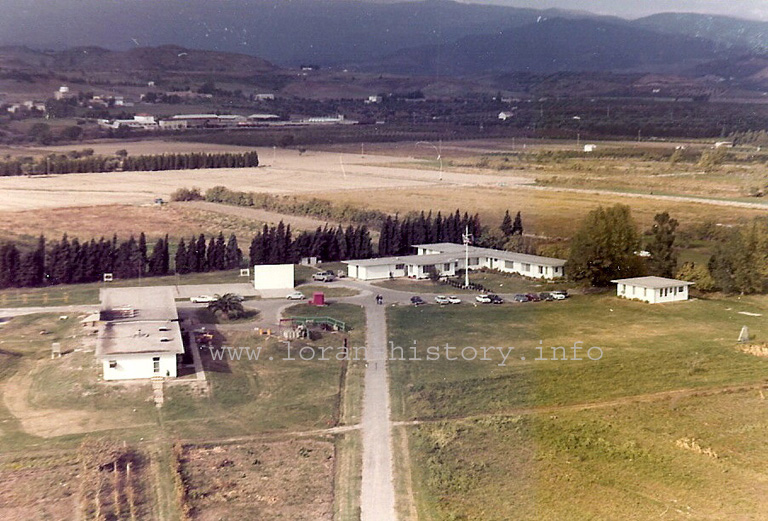 (Courtesy: Carl Burthart c./1972 from tower)
Thanks Carl!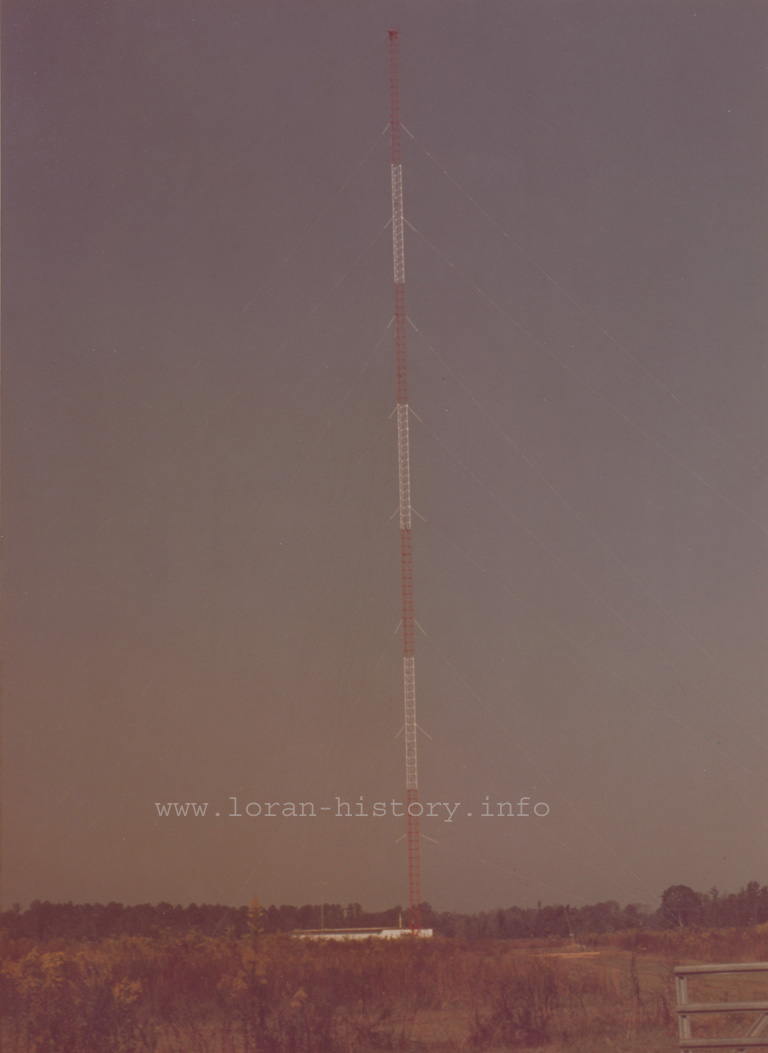 (Couresy: U.S. Coast Guard c./unk)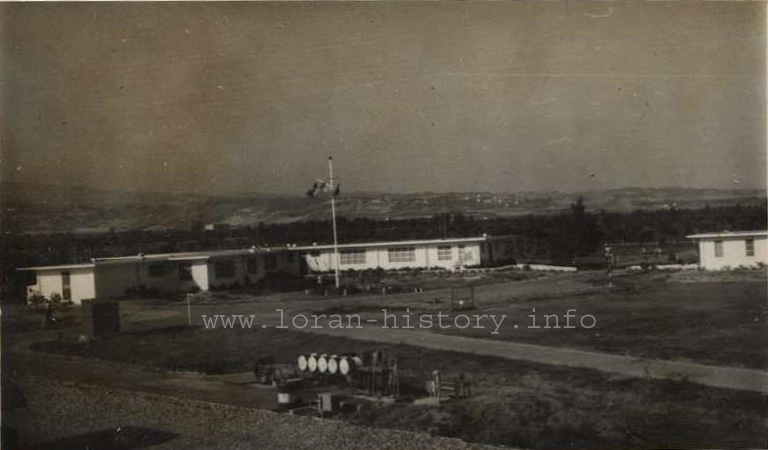 (Courtesy: Dee Hargett c./unk)
Thanks Dee!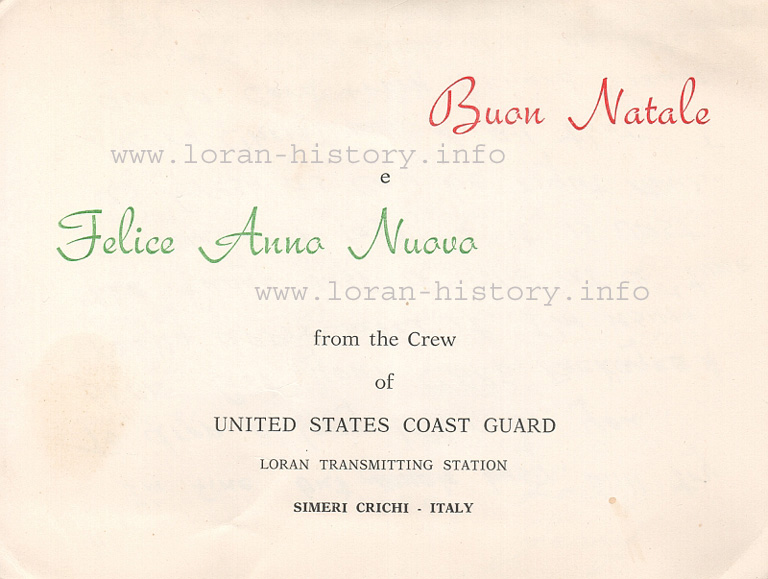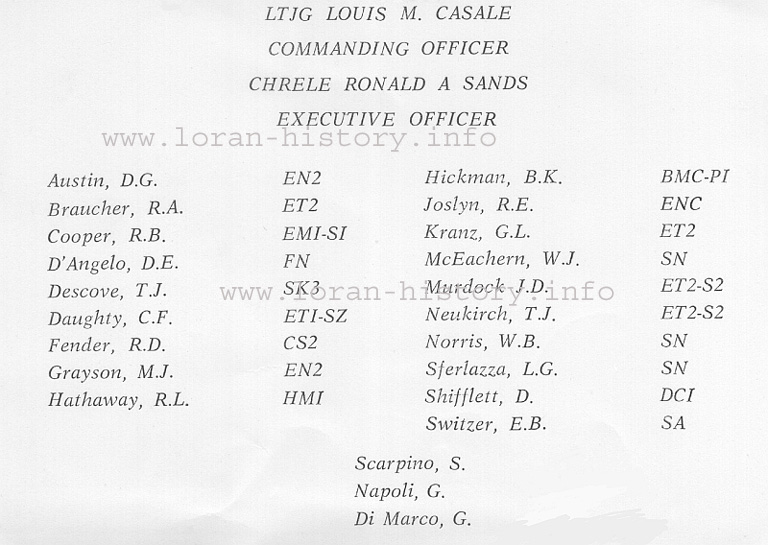 (Courtesy of Jerry Murdock c./1964)
Note from Jerry:The card was printed locally and has several misprints. Note the"I" was used
in place of the numeral "1" in every case on the entire card, "Z" in place of "2"once, Doughty
was misspelled as Daughty, and I am fairly sure T.J. Neukirchshould end with a "k". There
may be others I've missed (for instance, I think there there was a "c" in the ENC's last name).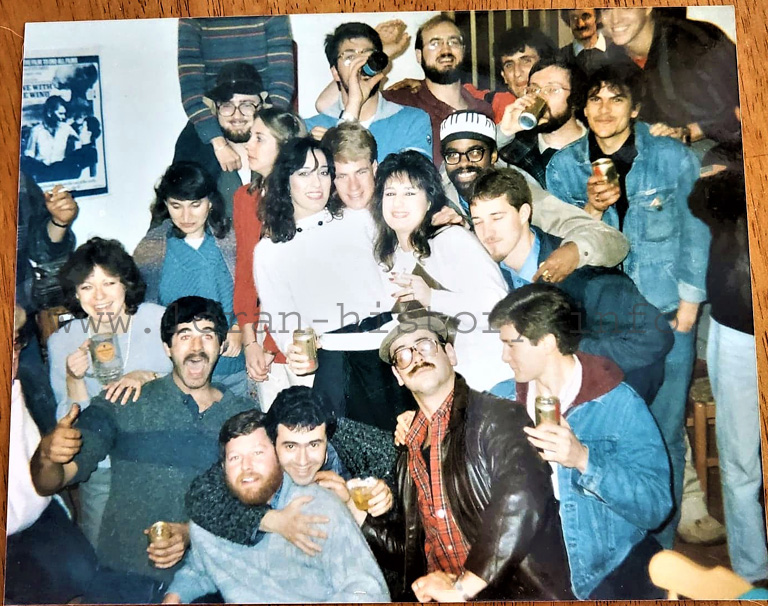 Winter party 1985-86
contributed by Roger Barns