Welcome to Loran-History.info
These pages remember the Coast Guardsmen, who served aboard Loran-A, Loran-C stations, and other Loran billets worldwide. These dedicated Coasties are but a few who provided radio navigation signals to millions of navigators. These pages wouldn't exist except through the efforts of MCPO Bill Dietz, USCG(ret). Bill has spent numerous hours for over a decade collecting the information you find here.
If you wish to add your information to the database, just fill out the Contact us form. Bill or I will update the list.
We are looking for pictures and stories. If you wish to contribute, please Contact Us.
Joe
---
FYI - Site Maintenance underway.

For the next few months we are conducting an audit of the html pages to ensure compliance with the current standards. There is extraneous html code on some pages and it needs to be brought up to date. I am doing each letter of the alphabet as a group before moving on to the next grouping. If you sent something to Bill that belongs in the portion of the alphabet I'm currently working, it won't appear as timely as others. Please bear with me during this process. I hope to make the site more friendly for the mobile users (tablets and smart phones) as well as faster for the wired users.

-- Joe
In April the Eastern Arctic Chain was revamped plus numerous updates to various pages. The Coast Guard Combats Veterans Convention was a great success. Thanks to all who made this happen. I enjoyed the time spent with a great group of people. Commander and I were invited as guests to get the feel for a Loranimal convention in the future. It will take much planning and assistance from other to host such an event. Shortly a survey will be conducted on the amount of interest, preference of location, etc...
The other day I realized I have been at this for almost a quarter of a century . Twenty-Five years and I still have no clue of the entire program. Each day I come across something that opens new doors to be researched further.
Bill
---
Loran Station GIS, a zipped google earth file with Loran Stations Locations by Michael Greene
---
Received this study (pdf) for distribution.
---
Received notice via an All Coast Guard message that Bill and I had received the Foundation for Coast Guard History's recipients of the Multimedia Award for this site. We are humbled by this recognition and thank the Foundation for the Multimedia Award.
---
USCG LORAN VETERANS FACEBOOK:
Ray is going a great job of hosting this and we support him temendously however the loran-history site and the Facebook group are two independent identities. If you would like to post something on either site the material should be sent to that site.
Bill
---
Thanks to Ray Rebmann Fred's Place Reunion Hall will be posted on each station page.
Completed: Adak, Angaur, Atafu, Attu, Barrigada, Batan, Biorka, Cape Atholl, Cape Christian, Cape Sarichef, Canton, Catanduanes, Eniwetok, Estaca de Vares, Estartit, French Frigate Shoals, Gesashi, Guam, Hokkaido, Ichi Hanare, Iwo Jima, Johnston Island, Kargabarun, Kauai, Kure Island, Kwajalein, Lampang, Lampedusa, LMS Kami Seya, LMS Keflauik, LMS Kodiak, LMS Rhodes, LMS Sardinia, LMS Shetlands, LMS Udorn, Marcus, Matratin, Matsumae, Miho, Miyako Jima, Molokai, Narrow Cape, Naulo Point, Niigata, Niihau, Nomaike, Ocean Cape, Oshima, Port Clarence, Pusan, Roguron, Saipan, Sattahip, Sellia Marina, Shoal Cove, Sitkinak, Spruce Cape, St Paul, Sylt, Upolu Point, USCGC KUKUI, Wildwood
---
Ray Rebmann asked to pass this info: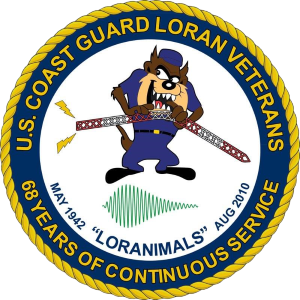 Loranimal patches are available. Visit this page to contact Ray. The actual patch is depicted on the contact page as well as the history behind the patch.
Facebook pages for Loran Veterans
USCG LORAN VETERANS GROUP USCG LORSTA VETERANS GROUP
---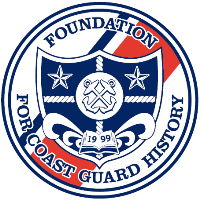 ---
"The View From the Top" - By CDR Carl Burkhart USCG (Ret) - pdf
(This article was published in CGA Alumni "The Bulletin",Vol 72, No 5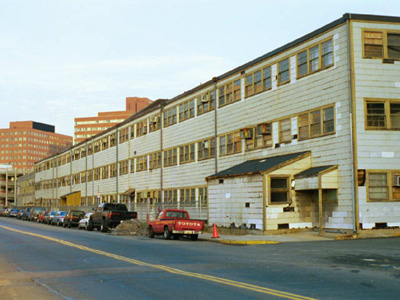 MIT Radiation Lab
MIT - Radiation Laboratory Series - Vol 4 - LORAN
Pierce, McKenzie, Woodward
What's new:
23 MAY 19 - Kargabarun Engineering Tower Failure Report; Updated personnel roster
22 MAY 19 - Updated Fact Sheets: Adak; Cape Christian; Cape San Blas; Eniwetok; Hokkaido; Kargabarun; Marcus; Kargabarun: added 1967 General Information Book & 1990 PCB Prevention Instructions
15 MAY 19 - Revamped Kargabarun - added Bob Brady Video movie. Updated Personnel Roster.
14 MAY 19 - Revamped Narrow Cape
10 MAY 19 - Revamped Sitkinak with numerous additions; updated Marcus and Spruce Cape Fact Sheets.
28 APR 19 - Updated Angaur Fact Sheet, updated personnel roster
26 APR 19 - Revamped Cape Atholl - updated Cape Christian Fact Sheet - Loran A Eastern Arctic updated
21 APR 19 - Updated Facts Sheets for: Catanduanes; Cocos Island; Kwajalein; Nantucket; Orote Point; St. Paul Loran C; Revamped Nipisat
19 APR 19 - Updated Personnel Roster
13 APR 19 - Cape Christian revamp completed.
10 APR 19 - Updated the Rememberances page; Cape Chistian Charlie Huber Crew and RCMP photos
09 APR 19 - Cape Christian revamp
08 APR 19 - Cape Christian - added 1956 Overseas Loran Station Survey; 1962/63 Report Sky Wave Time Delay plus other reports and revamped McLamb photos - updated fact sheet
06 APR 19 - Cape Christian - added Charlie Huber (CO) 1971-72 General Photos
05 APR 19 - Updated Cape Christian Fact Sheet and added the 01 JUN 1957 General Information Book. This is a large file 30mb. A personal note: This is fantastic. The First CG District Commander, Rear Admiral Roland, signed the Letter of Promulation. This is normally delegated to the Aids to Navigation Branch Chief. The 1956-57 crew deserves a BZ for their accomplishments.
04 APR 19 - Updated Personnel Roster
31 MAR 19 - Updated Cape Christian Fact Sheet and added Charlie Huber (1971 CO) Christmas Photos
30 MAR 19 - Updated Personnel Roster
28 MAR 19 - Added St. Paul 1968 GIB
27 MAR 19 - Revamped St. Paul and added Jim Bachtell's photos.
22 MAR 19 - Updated Fact Sheets for: Cape Atholl; Cocos Island; ACTEUR; Narrow Cape; Naulo Point; Point Arguello; Port Clarence; Sandur; Sitkinak; ST Paul; Revamped Venice with new material
21 MAR 19 - Revamp Kutdlek - added Sam Rutherford photos
19 MAR 19 - Revamp Saipan and Yap with added material.
16 MAR 19 - Updated personell roster
09 MAR 19 - Revamped Ulithi with added material.
07 MAR 19 - Revamped Angaur.
06 MAR 19 - Revamped Marcus photos
05 MAR 19 - Revamped Guam - Orote Point and Cocos Island have separate html pages
28 FEB 19 - Added Loran-B Purchase Equipment Description
27 FEB 19 - Added 1959 Loran-A and C system description by LCDR Henry; Revamped Loran-B
24 FEB 19 - Updated Martha's Vineyard - added photos
21 FEB 19 - Updated Personnel Roster
18 FEB 19 - Added Loran-C Technical Manuals
17 FEB 19 - Updated LMS Bermuda Fact Sheet; reposted FEB 1967 GIB
16 FEB 19 - Updated personnel roster
15 FEB 19 - Updated Marcus fact sheet;
14 FEB 19 - Agreement to Transfer NWPAC Loran stations to GOJ; Marcus Fact sheet updated; added MOU in preparation of transfer of station; Decommission Ceremony; and other documents
13 FEB 19 - Updated Marcus Fact Sheet, added D14 OPORDER 05-93 and 1985 GIB (Believe this is 1986 GIB); COMDT Bulletin Article "Un-tenna"
12 FEB 19 - Updated Marcus Fact Sheet, added Bob Mudge photos, 1969 GIB and 1979 GIB
11 FEB 19 - Completed upgrading Marcus web page
10 FEB 19 - Commenced upgrading Marcus web page - added station awards; Updated FESEC, Barrigada, Hokkaido, Gesashi, Iwo Jima and Marcus OCT 1992 - JUL 1993 MUC award.
09 FEB 19 - Continue with Loran-A revamp pages, added North Pacific Loran-C chain maps
08 FEB 19 - Added Loran-A photo section; photos of a Loran Mobile Unit, CG-222 1953 amend 4 Jun 1956; Updated Wildwood page. Updated Personnel roster.
03 FEB 19 - Added Sperry Third Generation Loran Brochure; 1969 MEDSEA Loran-C Calibration Report
02 FEB 19 - Continue with Loran-C/LIPIT revamping
31 JAN 19 - Updated Shetland photo- identify UK officer; St Paul updated 02 NOV 1963 Document; Continue Loran-C/LIPIT revamping
29 JAN 19 - Continue Loran-C/LIPIT revamping
28 JAN 19 - Continued Loran-C/LIPIT revamping
27 JAN 19 - Added files to Sylt folder; continued Loran-C/LIPIT revamping
23 JAN 19 - Sylt - updated Fact sheet to new standard; added fact information and documents; Sattahip photos updated.
17 JAN 19 - Updated Fact Sheets for: Folly Island; Gesashi; Gray Point; Miyako Jima; Matratin; Spring Island; Added files to LORAN C Correspondence 1955-59 and Timing
16 JAN 19 - Revamping the LORAN C folder, Johnston Island - added Shut-Down message - Sattahip - corrected construction photo
09 DEC 18 - Updated personnel roster.
04 DEC 18 - Updated personnel roster.
26 NOV 18 - Updated Havre fact sheet and added numerous documents.
25 NOV 18 - Updated Personnel Roster
17 NOV 18 - Updated Personnel Roster; Fact Sheets: Angaur; Attu; Baudette; Boise City; Cape San Juan; Caribou; Ejde; Estartit; Fallon; Gillette; Grangeville; Havre; Ichi Banare; Iwo Jima; Johnston; Jupiter; Kodiak; Kwajalein; Las Cruces; Malone; Miyako; Nantucket; Port Clarence; Raymondville; Seachlight; Seneca; Shoal Cove; Tarumpitao; Tok; Wake Island; Yap - Added documents to Loran A GOA Chain.
16 NOV 18 - Point Grenville - updated Fact Sheet; added photos and documentation
09 NOV 18 - South Caicos - updated Fact Sheet; added 1965 and 1969 Organization/General Information Book, photos from BMCM Bobby Hill (c./1972) and Chuck Bliley (c./1968) plus other documents.
02 NOV 18 - San Salvador - updated Fact Sheet; added 1965 and 1968 GIBs; photos of WALDO 1 and construction of permanent.
24 OCT 18 - added photos to Operation Tight Reign; Ejde photos tower dismantling; San Salvador photos
14 OCT 18 - updated personnel roster
11 OCT 18 - ADAK - added 1949 - 1975 photos; Updated Fact Sheet for: Adak, Attu, Cape Sarichef, Port Clarence, SEAsia Section, Tan My
09 OCT 18 - Adak - added 09 JUL 1956 Loran Transmitting Station Survey; plus 1956 photos
08 OCT 18 - Adak - added 31 JUL 1968 Personnel Roster
03 OCT 18 - SEAsia - MAR 75 ITT Proposal for Operation and Maintenance of the Thailand stations Sattahip: 1969 GIB
2 OCT 18 - created SE Asia Chain page and banner above. Marshall Point: updated fact sheet; added HQs and D1 implementation correspondence and 20 SEP 1971 Dedication Cememony Panphlet
28 SEP 18 - SEAsia Loran C Calibration Report 09 MAY 1966 News Release; Updated USCGC KUKUI fact sheet
27 SEP 18 - Angissog 1967 General Information Book; Bikati; Biorka Fact Sheets; LORAN C Manuals/Brochures: 26 MAY 1972 LORAN C and D Systems of Navigation; ITT AN/ARN-85 Receiver panphlet; SEAsia stations Lat/Long updated; 05 MAY 1969 Vietnam Airboure Cal Test; 06 MAY 1966 News Release
26 SEP 18 - Conson: Updated fact sheet; 30 DEC 1968 and 1969 General Information Books added plus 1967 photos
22 SEP 18 - Kwajalein: Updated fact sheet; 1965 and 1975 General Information Books added plus much more.
16 SEP 18 - Matratin: added 1967 General Information Book
15 SEP 18 - Ocean Cape: added Ken Cochran photos, files and the 01 DEC 1967 General Information Book
10 SEP 18 - Added Tom Shubback Miho photos
09 SEP 18 - Updated Personnel Roster
07 SEP 18 - Added photos to Hobe Sound
03 SEP 18 - Added LMS Ratidian 1945 station photos
30 AUG 18 - Updated Kauai - 1944 construction photos, 1969 General Information Book
27 AUG 18 - Saipan 1971 General Information Book; Updated facts sheets: Eniwetok, Guam, LMS Ratidian Point, Saipan, San Salvador, Sattahip, Ulithi
26 AUG 18 - LORAN A AN/FPN-30 Tech Manual, Updated fact sheets: Lampedusa, Malone, Saipan
26 JUL 18 - LORAN A CU-277/URT and T-325B/FPN Tech manuals have been located, scanned and posted. The AN/FPN-30 tech manual soon to be posted. A very special thanks to Dwight Grimes for the loan of the manuals.
25 JUL 18 - Updated Personnel Roster
06 JUN 18 - Updated fact sheets for: Angaur, Batan, Cape Christian, Cape San Juan, COMFESEC, COMMARSEC, COMPHILSEC, Eniwetik, FFS, Grand Turk, Guam, Ichi Banare, Iwo Jima, Johnston, Kauki, Kwajalein, Matsumae, Miho, Miyako Jima, Molokai, Nomaike, O'Shima, Pusan, Saipan, Talampulan, Tarumpitao, Ulithi, Wake Island
04 JUN 18 - updated personnel roster
16 MAY 18 - Biloxi, LMS Udorn - added photos and updated Fact Sheet; Grangeville - added photos
15 MAY 18 - Updated personnel roster. 28 APR 18 - added videos to Wildwood and Johnton Island pages.
11 APR 18 - Updated Fact Sheets: Angaur; Cape Atholl; Cape Christain; Folly Island; Hokkaido; Iwo Jima; Kodiak; Marcus; Naulo Point; OShima; Ottisi; Philippine Section; Point Grenville; Port Clarence; Port Isabel; Port-aux-Basques; Saipan; San Salvador; Sitkinak; Skuvanes; South Caicos; Spring Island; Spruce Cape; St. Paul; Talampulan; Tan My; Tarumpitao; Added photos to Attu of CWO John Flewelling; Cape Hatteras 1949 Antenna; Gesashi 1976 aerial view; SEAsia Patch; updated personnel roster.
09 APR 18 - Battle Harbor - updated Fact sheet and added 1948 Operational Data Report; 26 FEB 1950 Station Fire Corrsepondence plus other material
06 APR 18 - Sellia Marina - updated Fact Sheet, added 1967 General Information Book; Board of Survey; COMDT OFCO; ACTEUR OPORD
01 APR 18 - Cape Atholl - added 02 NOV 1961 General Information Book; Cape Atholl/Christian OFCO 50-75
25 MAR 18 - Atafu - uploaded Roger Kelm photos and Roger Kelm World War Two LORAN Service
08 MAR 18 - Kure - added SS1 Steve Phifer photos
07 MAR 18 - LMS Eglin - added USAF Support Agreement, LMS Warner-Robbins to Eglin; Kure: added photos from Dave Hill; Updated Fact Sheets: Narrow Cape; Niigata; Nomaike; Ocean Cape; Okama Saki;
04 MAR 18 - LMS Eglin - added documentation; Updated Fact Sheet: LMS Keflavik; LMS Kodiak; LMS Ratidian; LMS Shetland
01 MAR 18 - LMS Eglin - added Destin Monitor Site correspondence
26 FEB 18 - Updated LMS Majuro Fact Sheet and added photos
24 FEB 18 - Updated LMS Fuchu Fact Sheet; added 1969 General Info Book plus other documents;
21 FEB 18 - Estaca de Vares added 1967 General Info Book; Fact Sheets updates: LMS Eglin; LMS Fuchu
19 FEB 18 - Attu added 07 NOV 1969 LORAN C Free Running Mode; Updated Port Clarence and Sitkinak Fact sheets; LMS Bermuda: added 1966-67 Personnel Allowance; 1978-79 Disestablishment Correspondence; Air Station History; updated the Fact Sheet
18 FEB 18 - Attu: added 302242Z DEC 64 LORAN A Operating Mode this includes all D17 LORAN A Stations; LMS Bermuda: added JUL 1969 General Information Book and updated fact sheet
14 FEB 18 - Updated LMS Bermuda Fact Sheet and added 1967 Station Info Book; OPCO 30-79;
13 FEB 18 - Updated Fact Sheets: Grangeville; LMS Bermuda; Marcus: added Don Johnson photos; Attu: added Establishment of Air Force/Army facility correspondence
12 FEB 18 - Attu-added Change of Command Documentation; Fact Sheet updates: Malone; Marcus
11 FEB 18 - Updated Fact Sheets for Iwo Jima; Jan Mayen; Jupiter; Kargabarun; Kodiak; Lampedusa; LMS Shetland;
10 FEB 18 - Updated Kure Fact Sheet and added documents
09 FEB 18 - Added Attu-Ochi-Ishi Feasibility Link Correspondence; Kure - added Bill Ferrary 1970's photos; Fact sheets: Guam; Hasaki; Hokkaido; Ichi Banare;
07 FEB 18 - Updated Fact Sheets: Galveston; Gesashi; Grand Isle; Grangeville;
05 FEB 18 - Updated Fact Sheets: Cape Blanco; Cape San Blas; Cape Sarichef; Caribou; Carolina Beach; Catanduanes; Conson; Ejde; Eniwetok; Estaca de Vares; Estartit; Fallon; FESEC; Folly Island; FFS;
01 FEB 18 - Updated Attu Fact Sheet and added 1968 General Information Book plus other documents
28 JAN 18 - Updated Adak Fact Sheet and added 1968 & 1976 General Information Books plus other documents
25 JAN 18 - Updated LMS Sardina Fact Sheet and added 1967 Station Information Book plus other documents
24 JAN 18 - Updated Batan Fact Sheet and added 1969 Station Information Book
23 JAN 18 - Updated Upolu Point Fact Sheet and 1978 Station Information Book; Water Issues; Wake: Geography Map of Atoll; Yap added Feb 1983 DI; 09 Nov 1964 D14 News Release;
22 JAN 18 - Updated Fact Sheet Attu; Barrigada; Batan; Battle Harbor; Biloxi; Biorka; Bo; Cape Atholl; Upolu Point; added to Upolu Point 1947 Life Aboard and 1969 Station Information Book
09 JAN 18 - Yap Report of Title; Fact Sheet: Karabarun, Upolu Point