LORAN STATION ENIWETOK
11 21 31.11 N 162 20 49.21 E (1960 Mercury Datum)
Fact Sheet
Site Survey:



Construction Date
24 JAN 1951 - Station construction completed
JUL 1953 - crews qtrs completed
1955 - Crews Qtrs renew
1962 - Storeroom and Paint Locker completed
1973 - Station rebuilt


Constructed by:
1973 – Matsco Contractor


Established:
JAN 1951


Disestablished:
JAN 1978


Operated by:
USCG


Chain:
MARSHALL


Station Letter designation:
1H1, 1H2, "E"


Station code name:



Station Radio Call Sign:
HAM: KX6CG
Station Address:
Box 21, APO SF 96535
APO 187 SF 96333

Station AKA:
BROWN ISLAND
ENIWETOK ATOLL


On-air testing date:
1L0 24 JAN 1951 – WAKE ISLAND
1L1 24 JAN 1951 - KWAJALEIN


Operational date:
1L0, 1L1 - 011300Z MAR 1951


Operations Ceased:
1H1, 1H2 - 312400Z DEC 1977


Station Operation:
Dual MASTER (DM)


Station pair:
1L0, 1H1 – WAKE ISLAND
1L1, 1H2 - KWAJALEIN


Loran Rate:
1L0, 1L1, 1H1, 1H2


On-Air:
1L0 011300Z MAR 1951
1L1 011300Z MAR 1951
1H1 1970
1H2 1970


Off-Air
1L0 1970
1L1 1970
1H1 312400Z DEC 1977
1H2 312400Z DEC 1977


Monitor Rate:
Remote monitoring on Japtan Island


Equipment:
OCT 1950 - T-137A Transmitters


Personnel Allowance:
JAN 1953 – LTJG, ETC, ET2, 4 ET3, EN1, SN


Station Mascot:
1960 – Bridget Bardog
1971 - Nicky


Miscellaneous:
APR - MAY 1948 - SANDSTONE Atomic Test
1950's Monitor Sta on Japtan Is
APR - MAY 1951 - GREENHOUSE Atomic Test
OCT - NOV 1952 - IVY Atomic Test
01 NOV 1952 Terrmonuclear test
28 DEC 1952 Typhoon Hester - station suffer extensive damage
MAR 1953 - Hydrogen Bomb Test
13 MAY 1954 - CASTLE Atomic Test
MAY - JUL 1956 - REDWING Atomic Test
APR - AUG 1958 - HARDTACK I Atomioc Test
1967 - Station named changed

Commanding Officers /
Officers in Charge
1stCO: LTJG Richard Hope 1950 - 2 AUG 1951
2nd CO: LTJG Clarence Pare 2 AUG 1951 - 1952
CO: LT Combs 1953 - 1954
CO: LTJG Robert S Lucas MAY 1955 - AUG 1956
CO: LTJG Lawrence Turk AUG 1956 - 1957
CO: LTJG Earl Clark 1957 - 1958
CO: LTJG Bobby Hollingsworth 1958 - 1959
CO: LTJG Joseph E Vorbach AUG 1961 - AUG 1962
CO: LTJG Anthony B Ford 1964 - 1965
CO: LTJG Harold L Bonnet 1965 - 1966
CO: LTJG William M Simpson 1968 - 1969
CO: LTJG Tucker 1969 - 1970
CO: LTJG Steinfeld 1970 - 1971
CO: LTJG Gary Nystal 1971 - 1972
CO: LTJG Cooley 1972 - 1973
CO: LTJG Smith 1973 - 1974
CO: LTJG Lacey 1974 - MAR 1975
CO: LTJG Robert G Blythe MAR 1975 - APR 1976
CO: LTJG F J Williams APR 1976 - 1977


Fred's Place Reunion Hall
Documents:
Captain Richard Hope Article - 1951 Eniwetok Atomic Testing
15 MAY 1950 - T-137A Budget Request - pdf
Pictures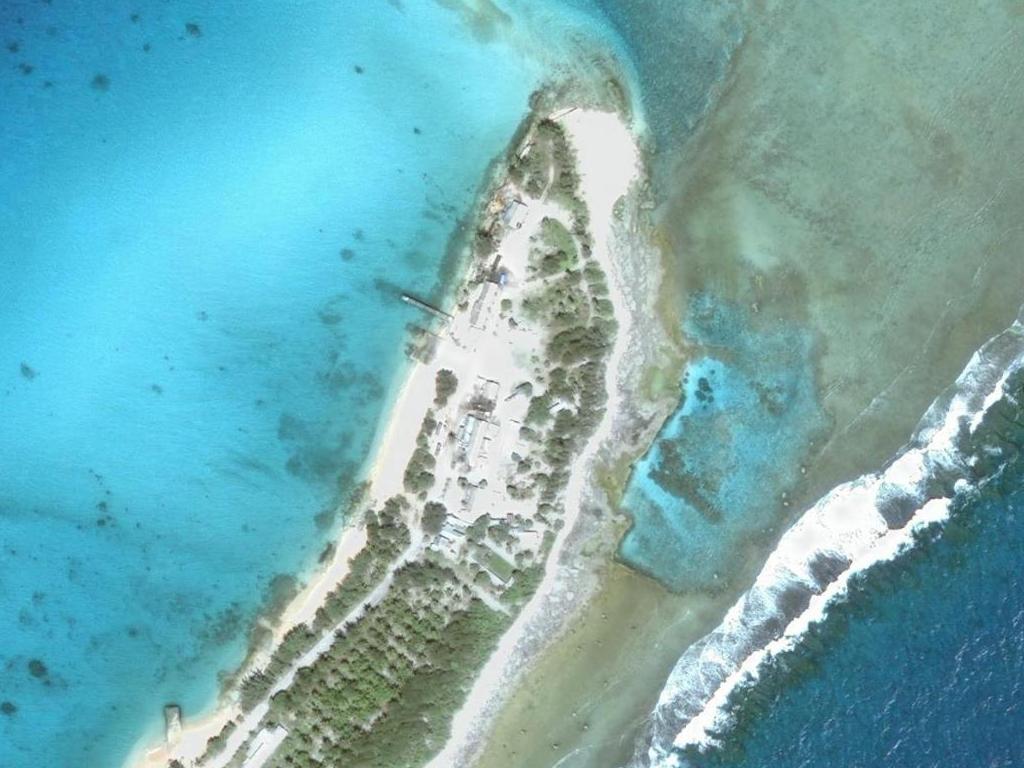 Picture from Google Earth.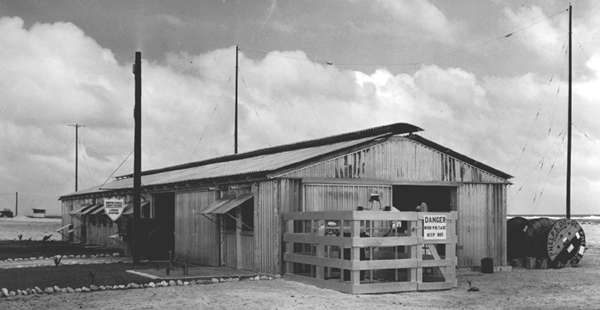 Loran Shack c./unk
The photos below were donated by Mr. Jack Howanski whose mother came into procession during a friend's estate settlement. Believe the photos are from the early 1950's
USCG Loran Station Entrance Sign
4930th Headquarters
7.2 Headquarters
Eniwetok Beach
Swimmer's Tavern
Library
Duffy's Tavern Front
Duffy's Tavern Interior
Duffy's Tavern Patio
"Cattle Car" Picking up Passengers
Enlisted Mess
Enlisted Mess
Office's Mess
Consolidated Mess
Athletic Field
MATS Passengers Arrival
Chapel
Chapel
HOSPITAL
Hospital Ward
Red Cross Music Room
Post Exchange
Post Exchange Inside
Officer's Club
NCO Club
NCO Club Patio
Special Services
Special Services Game Room
Special Services Recreation Room
Special Services Shell Hunt
Company Street
Japtan Island
Loran A Monitor was located on this island
Beach at Japtan Island
LCM Unloading Picnic Party at Japtan Is
Palms at Japtan Island
Recreation Area
Recreation During Japtan Picnic
Man-Eating Sharks Caught
Wrecked Ship at Japtan Island
Thanks Jack!
The below photos were contributed by Dennis Pack c./1958
Chapel - exterior
Chapel - interior
The Club
The Club
The Club
The Club
The Mess
Officer's Club view
Japtan Rec Area
Looking toward the Lagoon
Ocean View
The PX
Interior of the PX
MATS HQ
Swimmer's Traven
Swimming Beach
Swimming Pool & Ocean
Tent City
Sea Shells
Thanks Dennis!