Health Issues relating to Loran
Official Reports:
DTRA-TR-10-26 Final Report on Loran Transmitters X-Ray Exposure (pdf File) Loran History's copy

ALCOAST 538/11 Commandant Note 6260 Guidance on the DTRA Report on Potential Radiation Exposure associated with assignments to Coast Guard Loran Stations (LORSTA) (pdf file)

Dr Paul Blake DTRA, LCDR Jeff Hall, USCG and a special thanks to MCPO Charles J. Severance USCG (ret) for keeping this issue alive to the final report.
MCPO Bill Dietz, USCG(ret) and CPO Joe Jester, ETC USCG(ret) sends their thanks for your herculean efforts.
Items of interest compiled by Charles J Severance, ETCM, USCG(ret)
Time Line - Synopsis of LORAN Exposure History -by Charles J Severance, ETCM, USCG (ret)
VA Standard - Electronic Code of Federal Regulations
Killing Our Own - The Disaster of America's Experience with Atomic Radiation - (large PDF)
CG Members Health Questions - pdf
For several days during March 2011. this group of Coasties, retired, active and civilian from several commands, breathed life into the Loran-C transmitters at the LSU facility (EECEN). Their purpose was to gather data for an upcoming report on the ionizing radiation and non-ionizing radiation from Loran equipment.
Click on pic for larger image.
The names of the folks in the pic are, from left to right:
ETC Brad Kopf, ELC3 C.M. Polvado, Ray Wiedower (USCG ret), ELC4 Dave Robbio, LT Kenny Hydock, ETC Chris Le Ny, ELC2 Jonathan Guild, Dr. Paul Blake (DTRA), LCDR Jeff Hall, Chuck Severance, (USCG ret), Krystal hinds (OGA), LCDR Gerald (Jerry) Burke (USN), Chuck Schue (USCG ret/Ursa Nav), CDR Gary Thomas, Aaron Grant (Nautel), ET2 Brook Fox, Bill Frankenfield, ET3 Jose Perez, and Art Helwig (Ursa Nav).
In the this video, you will be reminded that MCPO Chuck Severance, USCG(ret), still has a sense of humor and can still deliver a one-liner.
Enewetok Loranimals
Here is a summary of the atomic blasts at the atoll from the begining. This includes the first thermonuclear device, titled Mike that evaporated an island in the NE corner of the atoll.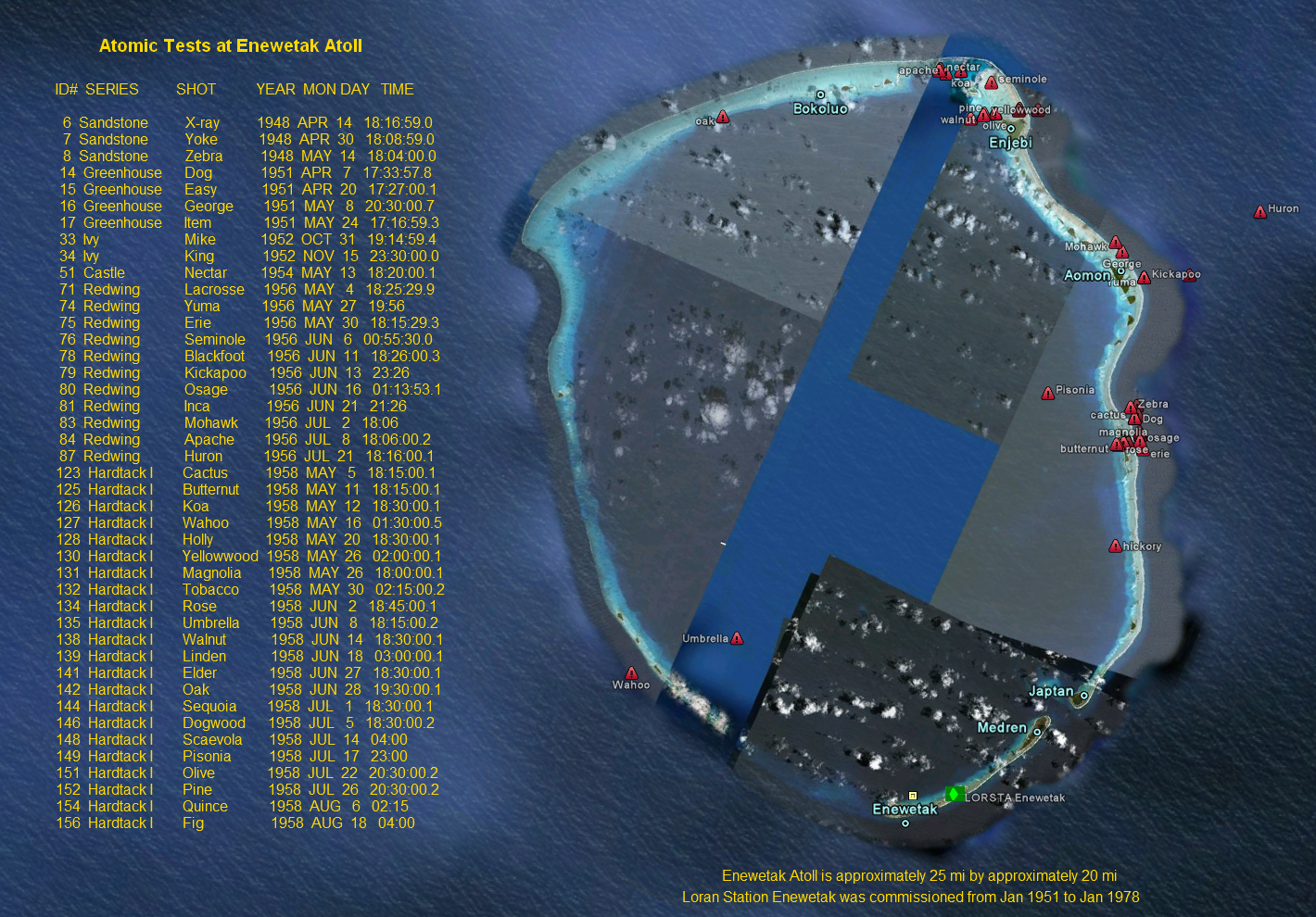 click on picture for larger image