Home
Contact us
Personnel Roster
Complete Roster
Search by Unit
Search by Last Name
Rememberences
Guest Book
View the Guest Book
Sign the Guest Book
Links of Interest
What is a Loranimal?
Reminiscing
Amelia Earhart Project
Loran Health Issues
Miscellaneous
Discussion Forum
Business Cards & Links'
Unit Awards
Loran-A
Loran-B
Loran-C
CYTAC
Operation Tight Reign
ATLS Program
CG Documents
Loran Implementation, Planning, Installation, and Termination
Omega System
Loran Stations
Adak
Aguni
Amchitka
Angaur Island
Angissoq
Aquadilla
Atafu
Attu
Baccaro
Baker
Barrigada
Batan
Battle Harbor
Baudette
Bikati
Biloxi
Biorka
Bo
Bodie Island
Boise City
Bona Vista
Cameron
Comfort Cove
Canton Island
Caribou
Cape Atholl
Cape Blanco
Cape Christian
Cape Hatteras
Cape Race
Cape San Blas
Cape San Juan
Cape Sarichef
Carolina Beach
Catanduanes
Conson
Dana
Deming
East Blockhouse
Ejde
Eniwetok
Estaca de Vares
Estartit
Fallon
Fenwick Island
Flores
Folly Island
Fox Harbour
Fredriksdal
French Frigate Shoals
Galveston
Gardner Island
Garths Ness
George
Gesashi
Gillette
Grand Isle
Grand Turk Island
Grangeville
Gray Point
Guam Island
Hachijo Jima
Hasaki
Havre
Hobe Sound
Hokkaido
Ichi Hanare
Iwo Jima
Jan Mayen
Johnston Island
Jupiter
Kargabarun
Kauai
Kodiak
Kure Island
Kutdlek
Kwajalein
Lampang
Lampedusa
Las Cruces
Malone
Mangersta
Marcus Island
Marshall Point
Martha's Vineyard
Matagorda
Matratin
Matsumae
Mediterranean Secton
Middletown
Miho Bay
Miyako Jima
Molokai
Montauk Point
Morotai
Nantucket
Narrow Cape
Naulo Point
Newton Point
Niigata
Niihau
Nipisat
Nomaike
Ocean Cape
Okama Saki
Orsuiagssuaq
Oshima
Ottisi
Palau

Point Arena
Point Arguello
Point Grenville
Point Sur
Porspodor
Port-Aux-Basques
Port Clarence
Port Hardy
Port Isabel
Porto Santo
Pulo Anna
Pusan
Raymondville
Roguron
Sagres Point
Saipan Island
San Mateo Point
San Salvador
Sandur
Sandy Hook
Santa Maria
Sattahip
Searchlight
Sellia Marina
Seneca
Shaw
Shoal Cove
Sitkinak
Skuvanes
Spring Island
Spruce Cape
South Caicos
St Matthew
St Paul
Sylt
Talampulan
Tan My
Tarumpitao
Tarva
Tok
Tsushima
Ulithi
Umnak
Upolu Point
Venice
Vik
Wake Island
Weybourne
Williams Lake
Yap
Yonakuni
Monitor Stations
Bermuda
Cape Chiniak
Chatham
Eglin
Fuchu
Hilo
Kami-seya
Keflauik
Kinnakeet
Kodiak
Majuro
Midway
Oak Island
Ratidian Point
Rhodes
Sardinia
Shetlands
St Brides
St George
Twillingate
Udorn
Other Monitors

Areas, and Sections
COMLANTAREA(Atl)
COMPACAREA(Ptl)
Activities Europe
Far East Section
Philippine Section
Marianas Section
Med Sea Section
SE Asia Section
Liaison Office Northern Europe
NAVCEN
Other Entities
Construction Comand Unit 203
Construction Det "A"
Guam Advance Base
Subic Bay
Wildwood
USCGC Kukui

External Links
Coast Guard Historian Loran Units
Jerry Proc's Hyperbolic Radio Navigation Systems Page
Dennis McCord's Estaca de Vares website
LORAN STATION EJDE
62 18.0N - 07 04.4W (Oct 1, 1964)
62 17 59.680 N 07 04 26.710 W
Fact Sheet
Site Survey:

AUG 1958

Construction Date

1959

Constructed by:

Established:

1959

Disestablished:

Operated by:

DENMARK

Chain:

NORWEGIAN SEA - SL-6, SL-0, SL-3, 7970
NORTH ATLANTIC – SL-7, 7930
ICELANDIC - 9980; 9007

Station Letter designation:

SL-6, SL-0, SL-3, 7970 – "M"
SL-7, 7930, 9980 – "X"

Station code name:

RAIL 1
WELD III

Station Unit Number:

Radio Call Sign:

OUN

Station aka:

On-air testing date:

1959

Operational date:

MAR 1960

Operations Ceased:

31 DEC 1994 - US Involvement ceased
01 JAN 1995 - Station Operations continued

Station Operation:

1959 – 1966 Single MASTER
1966 – 1994 Single MASTER, Single SLAVE/SECONDARY

Station pair:

SL-6, 1959 – 1964 BO, JAN MAYEN, SANDUR
SL-0, SL-3, 7970 1964 – 31 DEC 1994 BO, JAN MAYEN, SANDUR, SYLT
SL-7, 7930, 1966 – 31 DEC 1983 CAPE RACE, SANDUR, ANQISSOQ
9980, 1 JUN 1983 – 31 DEC 1994 ANGISSOQ, SANDUR
9007, 1 JAN 1995 ANGISSOQ, SANDUR

Loran Rate:

SL-6, SL-0, SL3, 7970, SL-7, 7930, 9980

On-Air:

SL-6, MAR 1960 – 1964
SL-0, 1964
SL-3, 1966
SL-7, 1966 Station became Duel rated
7970, 25 FEB 1975
7930, 25 FEB 1975
9980, 1 Jun 1983
9007, 010001Z JAN 1995

Off-Air

SL-6, – Change of Rate – Sylt added to the chain
SL-0, 1966 - Change of Rate – Station became duel rated
SL-3, 25 FEB 1975 – Change of Rate
SL-7, 25 FEB 1975 – Change of Rate
7930, 312400Z MAY 1983 Chain reconfigured
7970, 312400Z DEC 1994 GPS replaced Loran C requirements
9980, 312400Z DEC 1994 GPS replaced Loran C requirements

Monitor Rate:

Equipment:

1959 - AN/FPN-38/39, 625FT Twr 325KW??
1964 - AN/FPN-44, 625FT TWR, 400K
1995 – AN/FPN-64 24 HCG, 400KWpep

Antenna Type:

625ft – Stainless Inc, Model 1150R, 1959 – 28 MAR 1962
625ft – Stainless Inc, Model 1250R,

Personnel Allowance:

Miscellaneous:

28 MAR 1962 – Tower Collipased – Jan Mayen became Master on 29 Mar 1962.
16 FEB 1969 - Station Folder declassified (SECRET)
31 DEC 1994 – US Involvement ceased.

Commanding Officers / Officers in Charge

Frode Thielfold 1959 – 1984
Ivan M Carlsson 1984 – 2004
Asbjψrn Ψsterψ 2004 -
Documents:
01 OCT 1985 - Mr. Solvi Jespersen Distinguished Public Service Award - pdf
DEC 1994 - Capt Summers and CDR Gasley with station crew - pdf
03 APR 1962 - White House Brief Tower collapsed 28 Mar 1962 - Jan Mayen ordered operational Master (photo below)

From the tower manual - 625ft tower
06 JUN 1962 - White House Brief Tower Collapsed
Pictures - Click on picture for larger image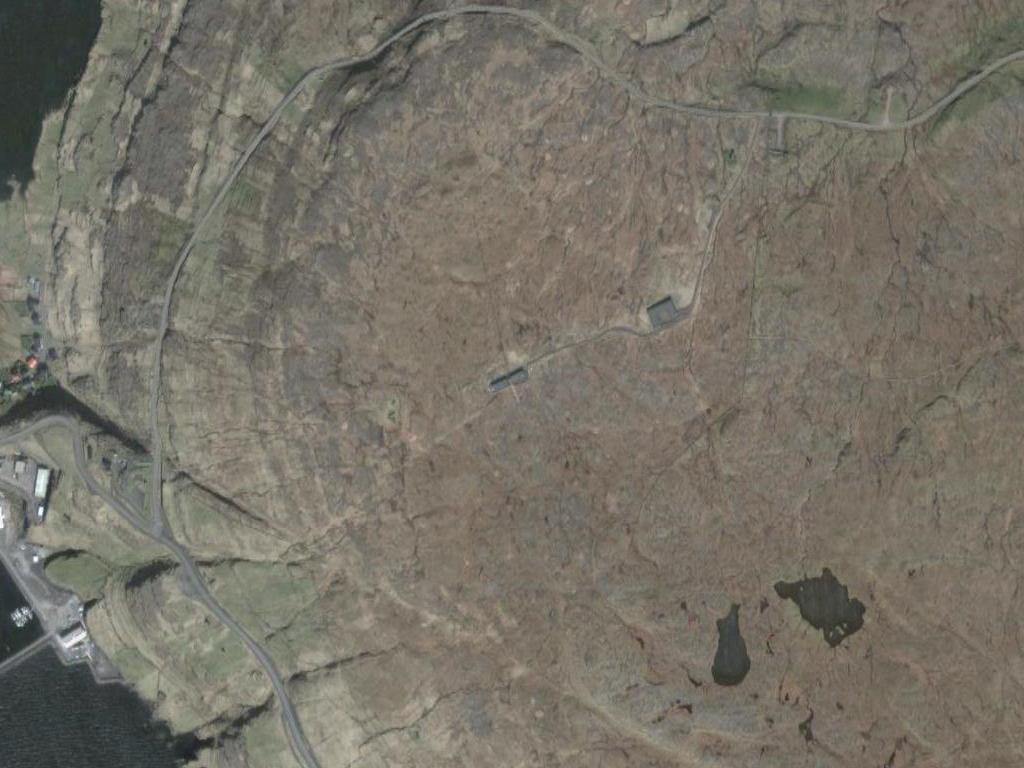 Picture from google earth.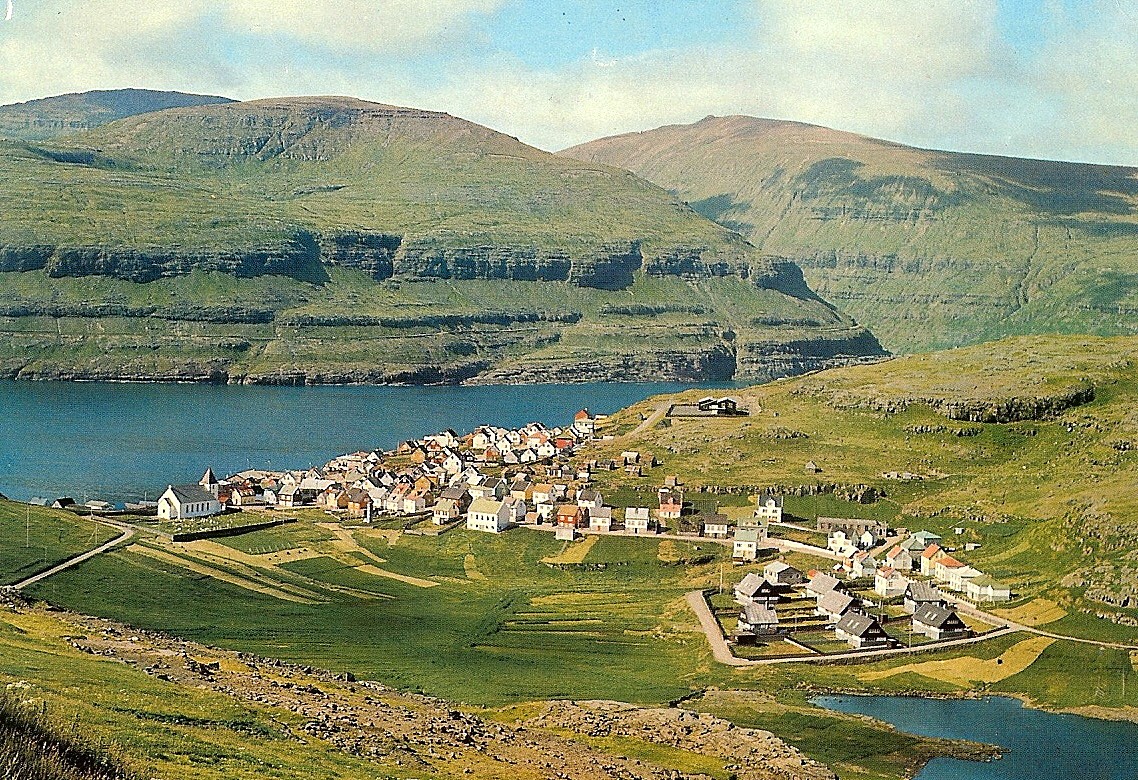 Photo contributed by Cdr Carl Burkhart(Ret)
Thanks Carl!
Below photos were contributed by Ivan Carlsson
Station Manager 1984 - 2004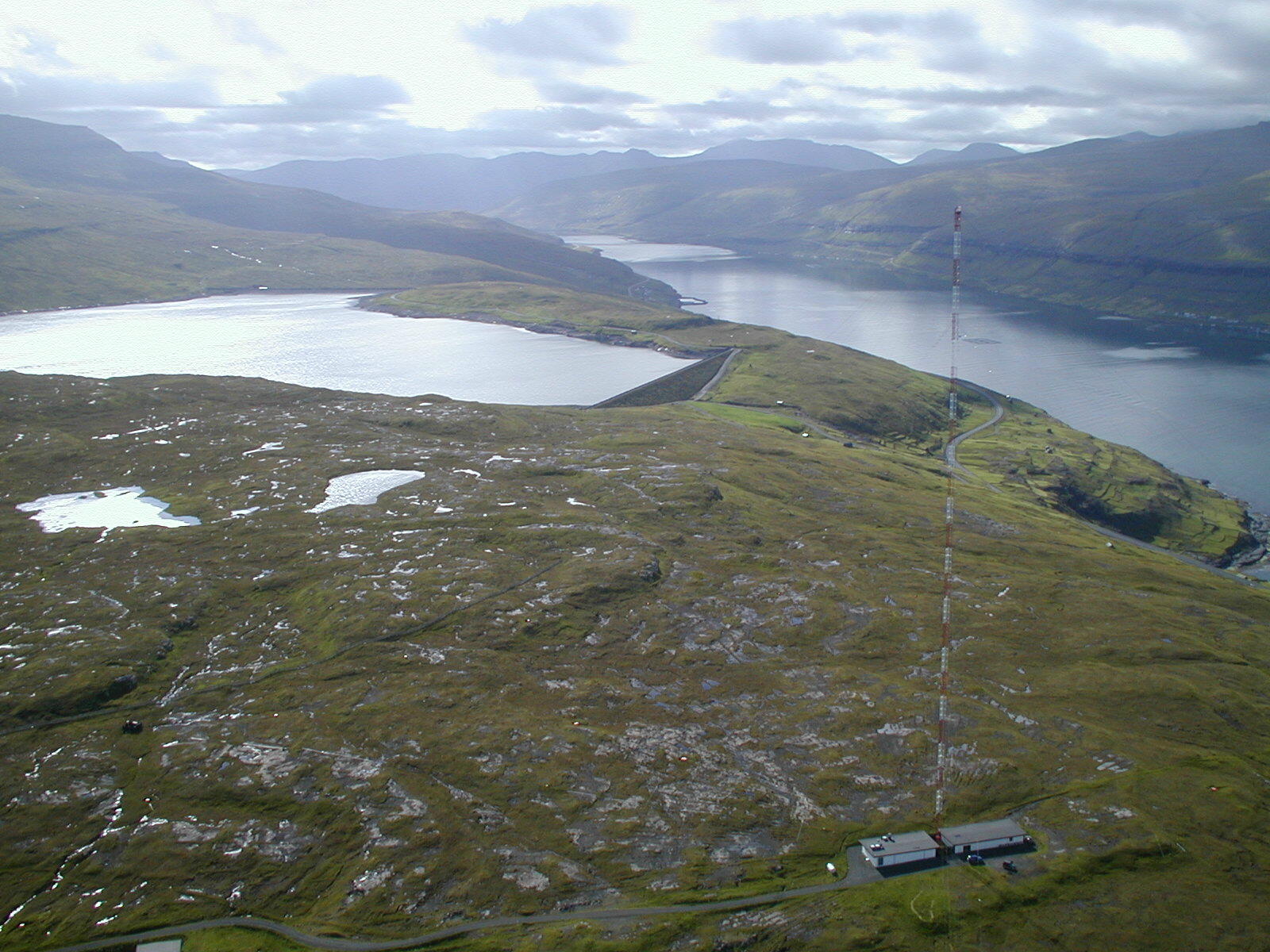 C./2002
The build to the left the technical equipment (old AN/FPN-39 XMTR building). The building on the right is now office, storeroom, workshop, etc (old AN/FPN-44 XMTR building). The old office, engineroom and watchstander building is now completely empty and is laying outside the TLE foundations to the left.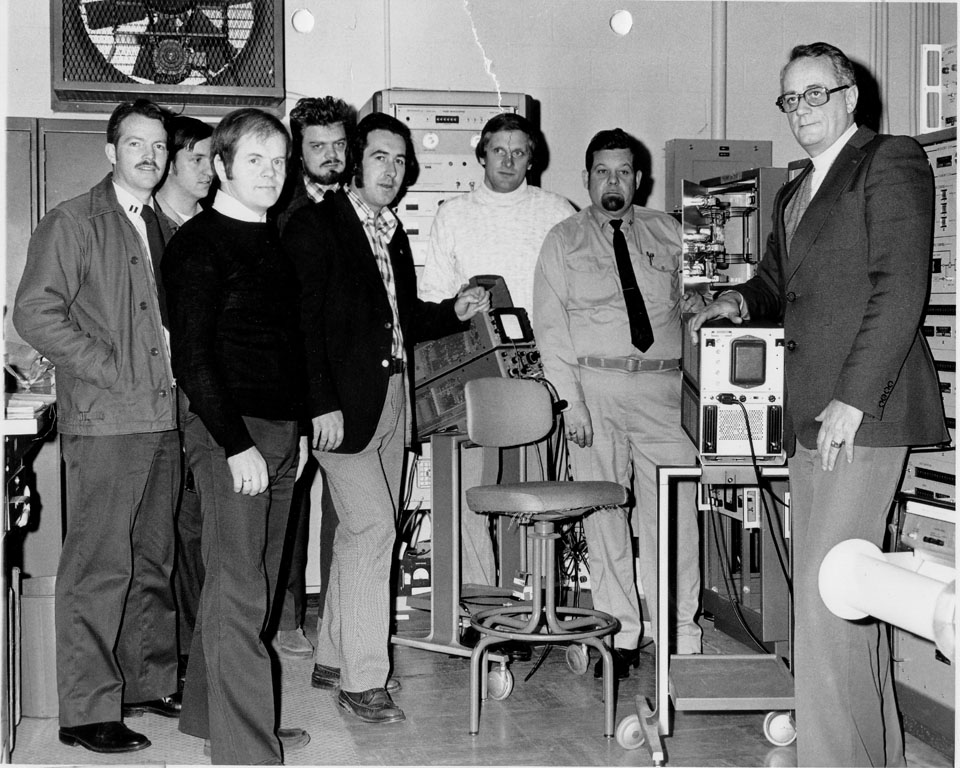 Photo taken at Wildwood for LRE training c./mid 70's
L to R: Gunner Mackeprang (Angissoq Loran C Tech); Jψgvan K. Mψrkψre (Ejde Loran-C Tech, in Dec 2012 will cerebrate his 50th anniversary at the station); sitting unknown; Hans A.B. Hansen (Angissoq, station leader); Frode Thielfoldt (Ejde Station Manager).
The photos below are from the days of construction
contributed by Ivan Carlsson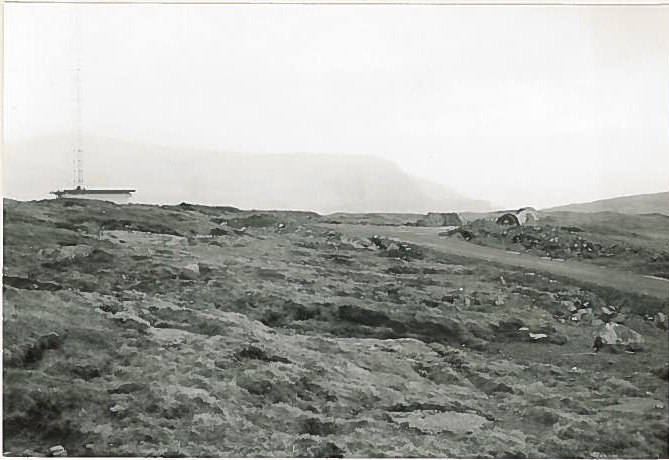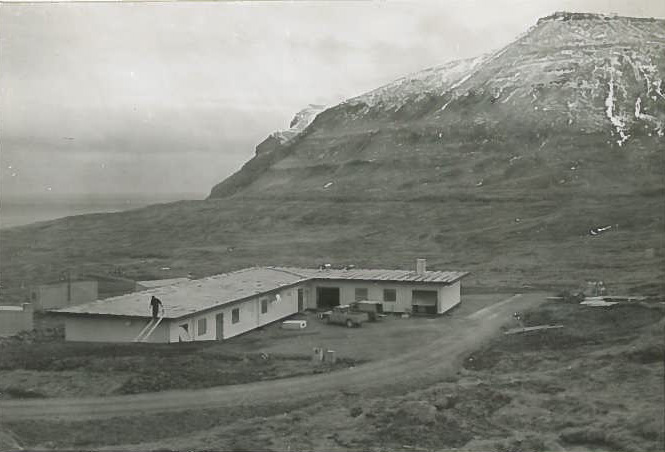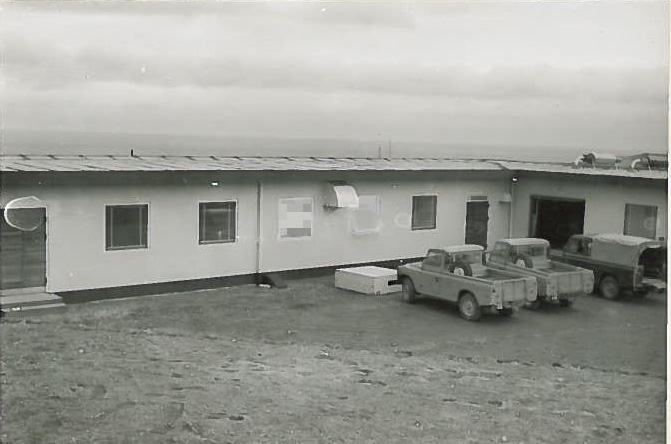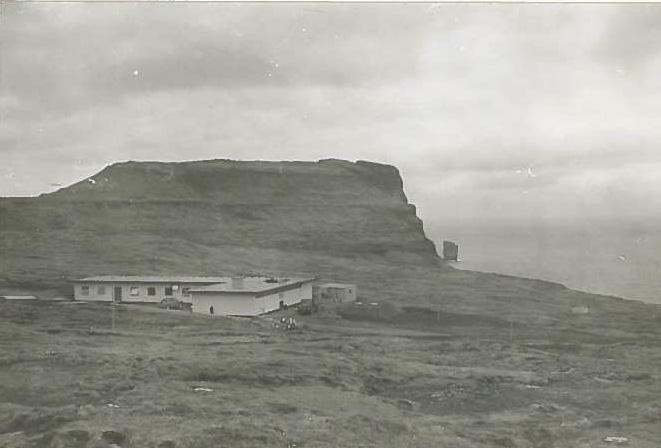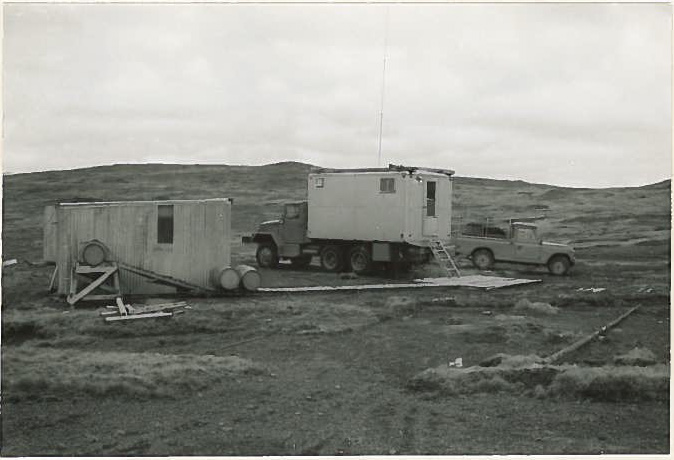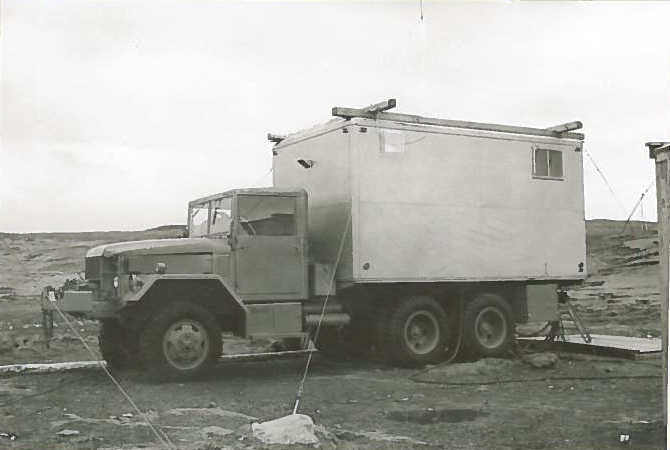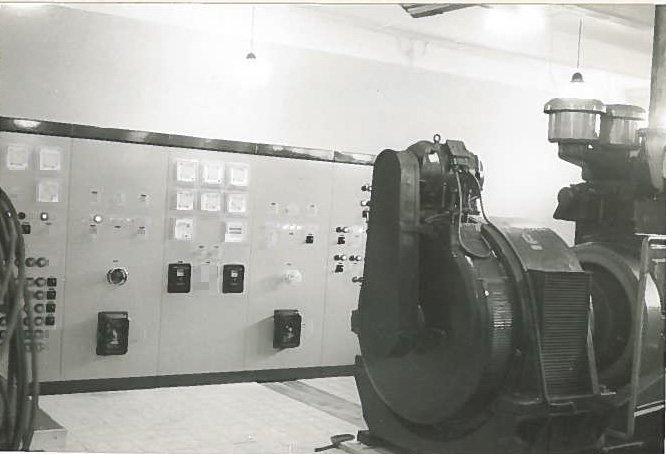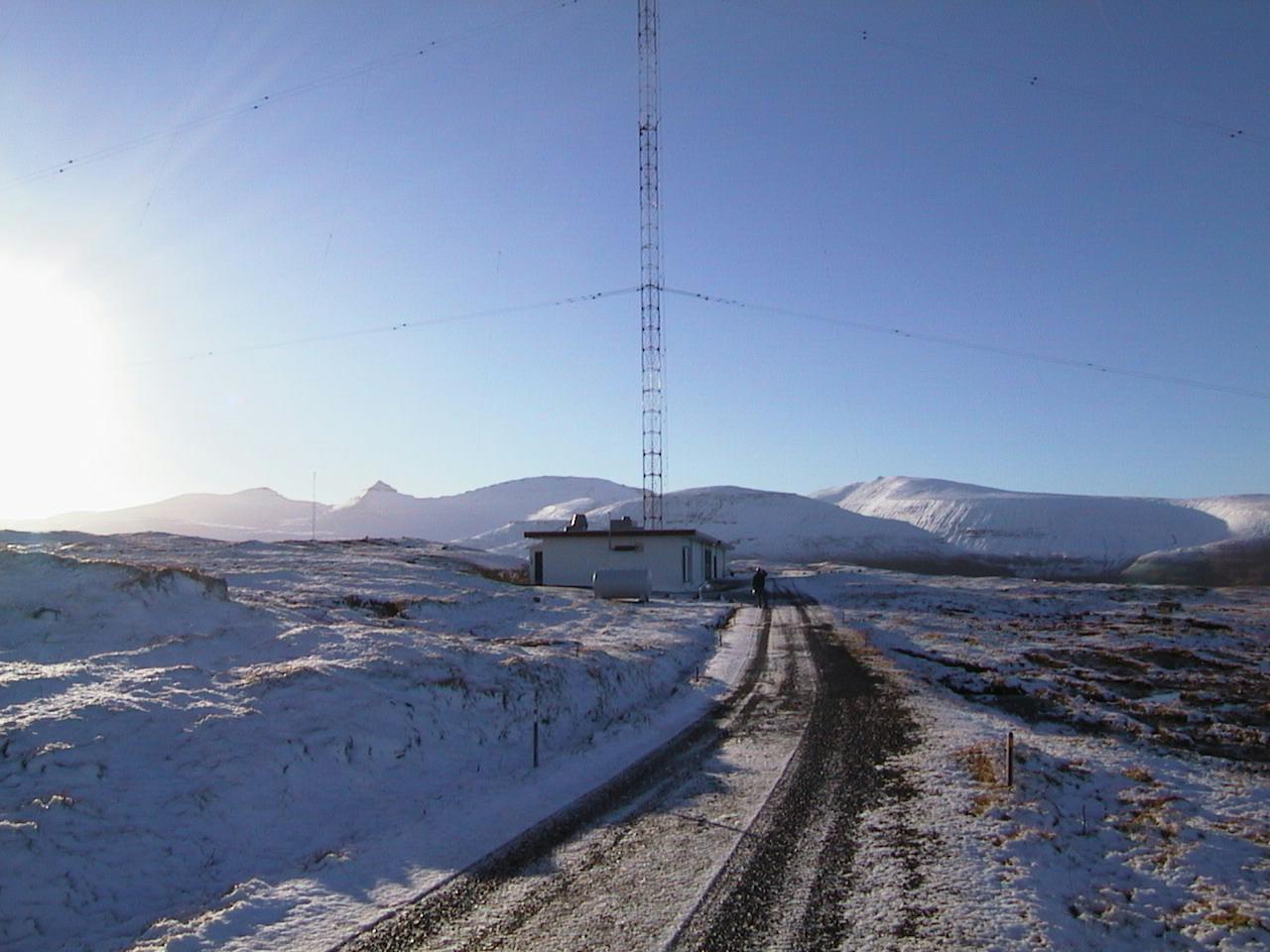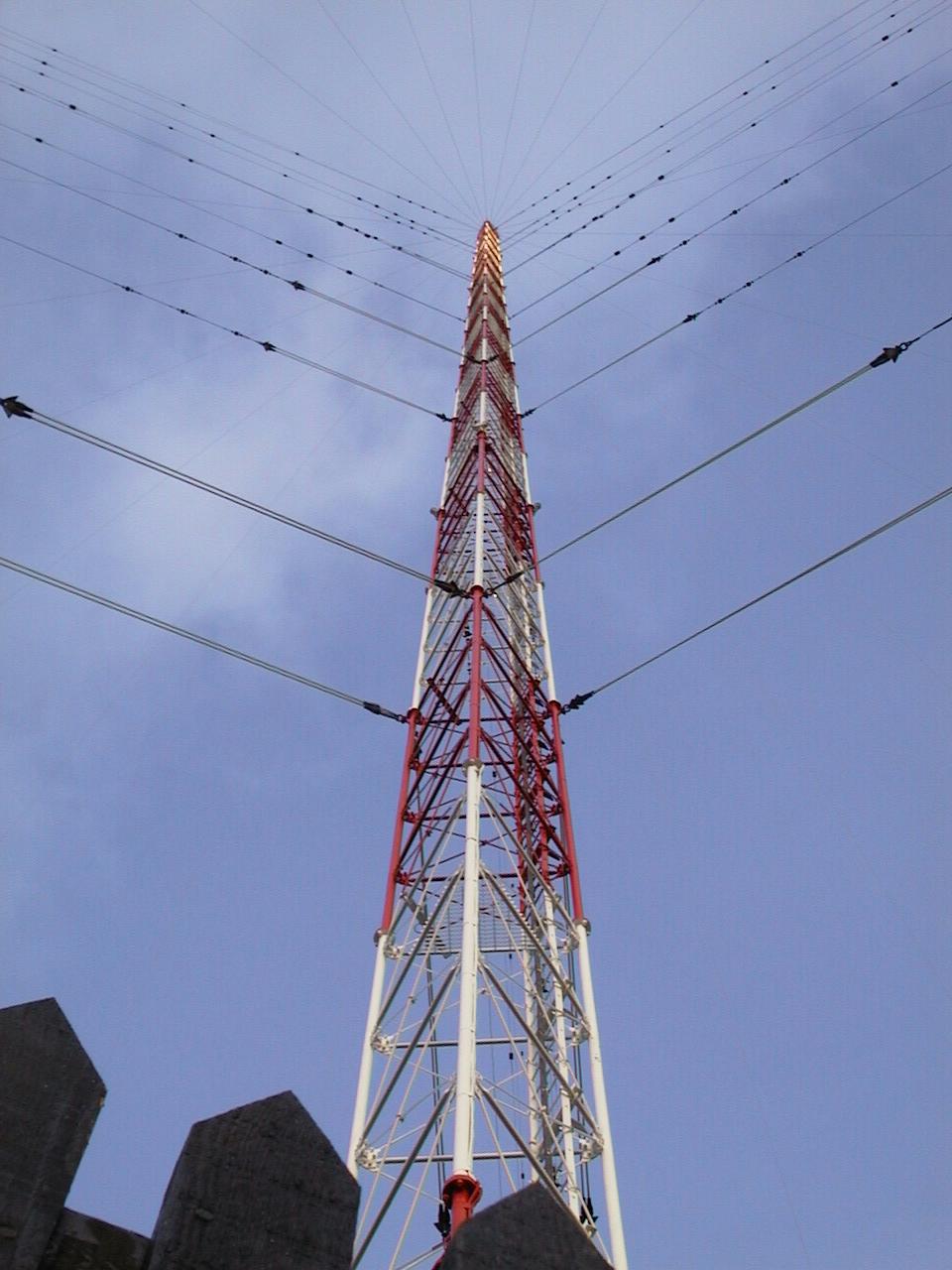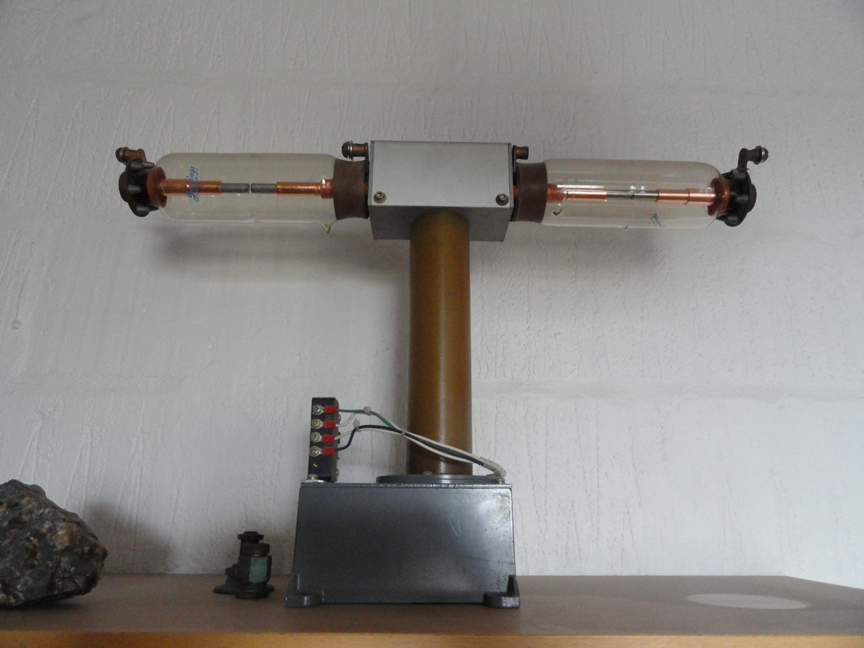 AN/FPN-44 Vacuum Tube Antenna relay
Thanks Ivan!