LORAN STATION BAKER ISLAND
0 11 46.23 N 176 28 26.14 W
Fact Sheet:
Site Survey:


Construction Date
9 JUL 1944 – 19 SEP 1944
16 DEC 1944 Station commissioned and turned over to 14th District

Constructed by:
CONSTRUCTION DET "D"

Established:
SEP 1944

Disestablished:
JUL 1946

Operated by:
USCG

Chain:
PHOENIX

Station Letter designation:
2L4, "E"

Station code name:


Station Unit Number:
91

Radio Call Sign:
NRN-1

Station nickname:


On-air testing date:
20 AUG 1944 Station ready for on-air testing
29 SEP 1944

Operational date:
22 NOV 1944

Operations Ceased:
15 MAY 1946

Station Operation:
Single SLAVE

Station pair:
2L4 – GARDNER ISLAND

Loran Rate:
2L4

On-Air:
2L4 - 15 NOV 1944

Off-Air
2L4 - 15 MAY 1946

Monitor Rate:


Equipment:


Antenna Type:
90 ft "T"

Personnel Allowance:


Miscellaneous:
Construction CO: Lt Alvin L Loose

SEP 1944 - One of first sites to used sentry dogs
19 SEP 1944 – BM2c James O. McKeehan lost his life while loading construction crew & material onto to the SPICEWOOD. The barge broke a mooring bit, the ramp cable parted causing the barge to flood. In the confusion, the BM2c fell overboard into shark infested waters. BM1c Kenneth E. Foreman and MoMM2c Joseph Letko jumped into the water to render assistance. No trace was found of him.

DC to AC completed 15 Jul 45

Station placed into caretaker status May 1946

Commanding Officers /
Officers in Charge
1st OINC: CRE Ennis T Adams
CO: LT Bobby D Pomeroy 1944
CO: ENS Derrick E Barretine ?-FEB 1946
CO: LT Robert E Foley FEB 1946 - MAY 1946

Pictures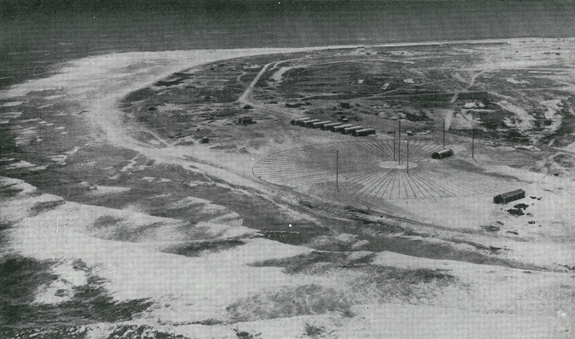 Aerial view of a typical ground station (located on Baker Island of the Phoenix Islands group).
Photo from MIT Radiation Laboratory Series Volume 4 Loran.