LORAN STATION SAIPAN ISLAND
15 07 50.1 N 145 41 40.20 E (SEP/OCT 1944)
15 07 46.76 N 145 41 38.11 E (1960 Murcury Datum)
Fact Sheet:
Site Survey:
SEP/OCT 1944

Construction Date
05 NOV 1944 - 16 NOV 1944 - Equipment in trailers, crew in tents
1945 - Quonset huts erected
1952 - Signal/Power Building constructed - Concrete Block
1953 - Station Rehabititated
1956 - Station buildings constructed - Concrete Block

Constructed by:

05 NOV - 16 NOV 1944 - Construction Detachment "C"


Established:

01 MAR 1945 - Station commissioned - Operations turned over to D14

Disestablished:

JAN 1978 - LORAN A
01 JUL 1981 - LORAN C System Area Monitor


Operated by:

U.S. Coast Guard

Chain:

LORAN A:
MARIANAS

LORAN C Monitor:
Northwest Pacific


Station Letter designation:

2L3 "A"
4H3 "S"

Station code name:

Station Unit Number:

Mailing Address:


U.S.C.G. Unit 337

1971 - FPO, San Francisco, 96637



Radio Call Sign:

LORAN A:


LORAN C NET:
NRV2

Station aka:

SAIPAN


On-air testing date:

16 NOV 1944 - Station ready to go on-air. COCOS ISLAND still under construction
27 NOV 1944 - on-air testing



In-Service:
Declared Operational:

16 DEC 1944
01 MAR 1945


Operations Ceased:

LORAN A:
312400Z DEC 1977

LORAN C Monitor:
301000Z JUN 1981


Station Operation:

LORAN A: Single Master (DS)
LORAN C: System Area Monitor (SAM)



Station pair:

4H3, 2H3 COCOS ISLAND
2L3, COCOS ISLAND; OROTE POINT


Loran Rate:

4H3; 2H3; 2L3




On-Air:

4H3 (M) - 16 DEC 1944 - COCOS ISLAND
2H3 (M) - 01 JUN 1952 - COCOS ISLAND
2L3 (M) - 01 MAY 1953 - COCOS ISLAND
2L3 (M) - 01 FEB 1966 - OROTE POINT


Off-Air

4H3 (M) - 01 JUN 1952 - Change of Rate
2H3 (M) - 01 MAY 1953 - Change of Rate
2L3 (M) - 01 FEB 1966 - COCOS ISLAND shifted operations to OROTE POINT
2L3 (M) - 312400Z DEC 1977 LORAN A phased out




Monitor Rate:

FEB 1964 - JUN 1981 - NWPAC SAM (M-W; M-Z)

Equipment:

LORAN A:
1948 - UE-1 Timers installed
1952 - UE-1 Timers; TDP Transmitter

LORAN C:
1964 - AN/SPN-29 Receivers
1975 - AN/FPN-46 Timers
1978 - AUSTRON - 5000

Personnel Allowance:

JAN 1953 - 13 Enlisted
JAN 1967 - 1 Officer; 19 Enlisted; 4 Civilians
NOV 1971 - 2 Officers; 15 Enlisted; 5 Civilians
MAR 1977 - 2 Officers; 17 Enlisted; 2 Civilians

Mascots:

1949 - Bouncer and Blackie




Miscellaneous:

Two-Thirds of island off-limits in conjunction with CIA training inflitration techniques to the Tawian Chinese.

1947 - Non-restricted station

1953 - Declared Isolated station

1966 - Non-restricted for certain dependents

1967 - Station named changed from SAIPAN to SAIPAN ISLAND

05 - 19 APR 1968 - Typhoon JEAN (ASIANG) Caterogy 3 struck island - station off-air - Transmission tower destroyed

1971 - Station assumed ATON responsibilities for Tanapag Harbor Range and Managahs Island Light plus the island weather reports.

FEB 1975 - Non-restricted to all crew members

Hotel is now occupying the site.



Commanding Officers /
Officers in Charge

CO: ENS Robert O. Leming 1945 - 1946
CO: LTJG Robert J. LoForte 1946 - 1947
CO: LTJG W. L. Monks 1949
CO: LT White 1952
CO: LT John P. Mihbauer 1953
CO: LTJG Jerome V. Flanagan OCT 1956 - OCT 1957
CO: LTJG Guy W. Mizzel OCT 1957 - OCT 1958
CO: LTJG Daniel C. Oslon OCT 1958 - 1959
CO: LTJG Dolan 1961
CO: LTJG Arthur Mergner JUL 1966 - AUG 1967
CO: LTJG Melvin Sellers AUG 1967 - 22 JUL 1969
CO: LTJG Thomas H. Thomson 22 JUL 1969 - JUL 1971
CO: LTjg Curtis Crumpley JUL 1971 - JUL 1973
Last CO: LTJG Tinothy S. Sullivan 1977 - 1978

LTJG Ralph M. Hartwell - year unknown

LORAN C NWPAC System Area Monitor:
OINC: ETC B. C. Waldon 1978 - 01 JUL 1981

Fred's Place Reunion Hall: OLD NEW
Awards:

LORANGE, David M., Boatswain's Mate Second Class, USCG (Extraordinary Heroism)
Date of Action: 19 March 1979
Date of Award: 21 June 1979
Petty Officer LORANGE is cited for extraordinary heroism of the afternoon of 19 March 1979 when he rescued a young boy from drowning in the turbulent surf at Agingan Point, Saipan, Northern Marianas Islands. The boy and a friend were fishing off the pointt when he was swept out to sea by the high surf. His young companion tossed a log out to the boy and ran for help. When advised of the accident, Petty Officer LORANGE and three shipmates from U. S. Coast Guard Loran Station Saipan immediately proceeded to the scene. Upon arrival, the boy was observed approximately 70-yards offshore, holding on to the log in an area locally known as "Shark Alley". With complete disgard for his own safety, Petty Officer LORANGE dove off the 10 to 12-foot cliff and swam through the 15-foot breaking surf and 10-foot swellsto the helpless boy. Reaching the bleeding victim, Petty Officer LORANGE quickly calmed him down and towed him to the base of the cliff. The other Coast Guardsmen then tossed him a life ring with a line attached. While being pulled to safety, Petty Officer LORANGE maintained his hold on the boy while using his feet to fend off the side of the cliff. With the boy safety ashore, Petty Officer LORANGE, a trained EMT, assisted in treating the boy for shock and lacerations while enroute to the hospital. Petty Officer LORANGE demonstrated remarkable initiative, exceptional fortitude, and daring in spite of imminent personal danger in this rescue. His unselfish actions, courage and unwavering devotion to duty reflect the highest credit upon himself and the United States Coast Guard.
Coast Guard Restrictive Duty Ribbon

(Prior to 30 MAR 1967)
Change of Command; Letter of Relief
Documents:
Pictures: Click on picture for a larger image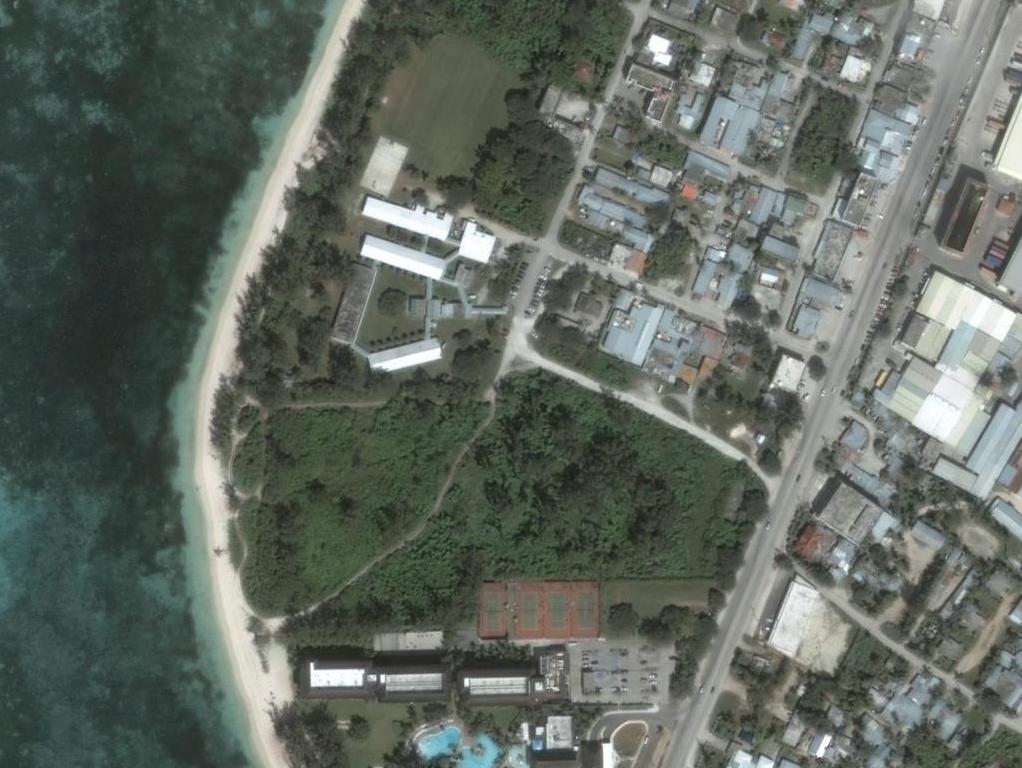 Photos Below are c./1955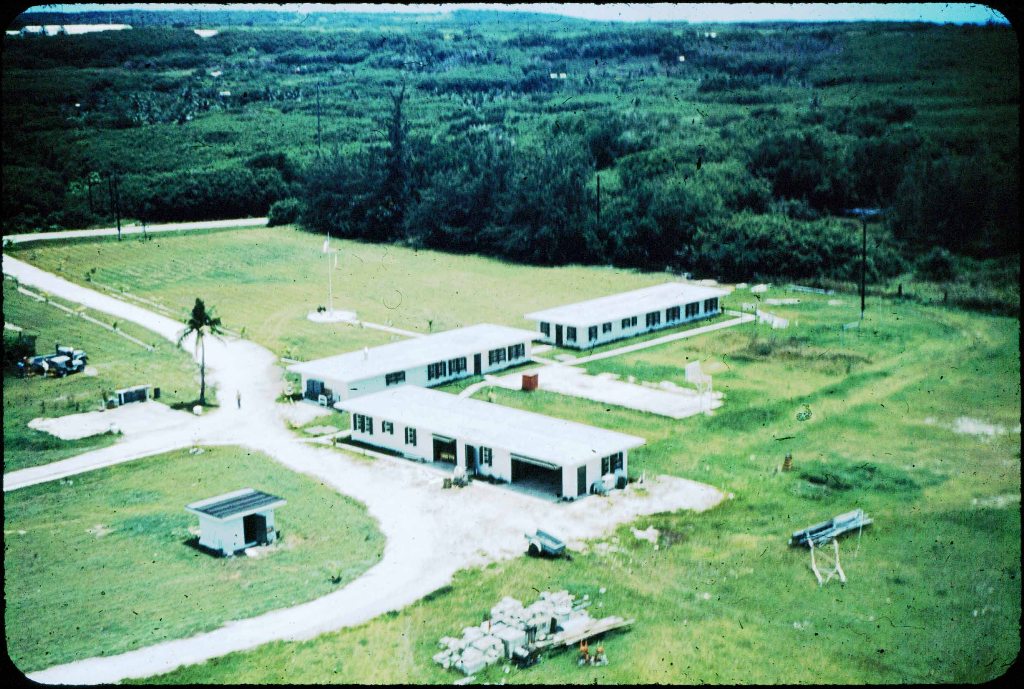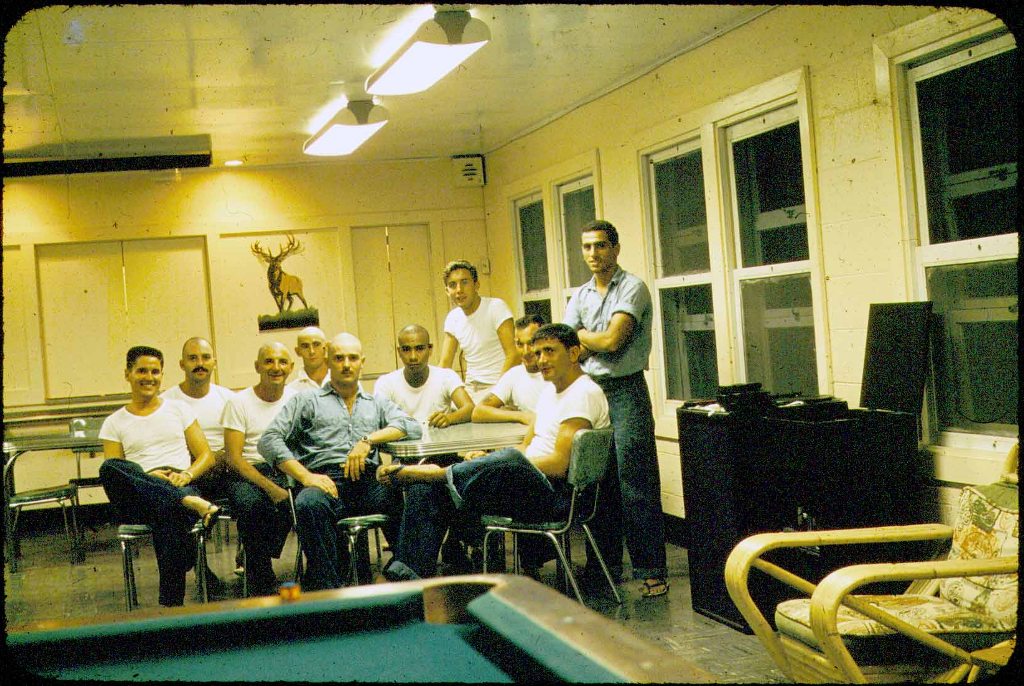 The 1955 crew
Station Patch c./1978
Contributed by Angus MacFeeley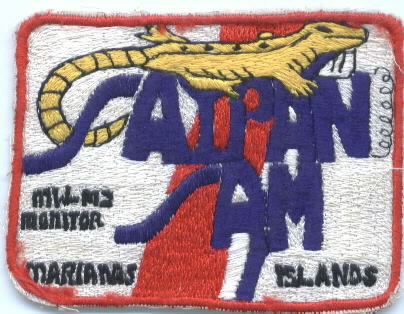 Thanks Gus!
The below photo was contributed by Mike Blaschum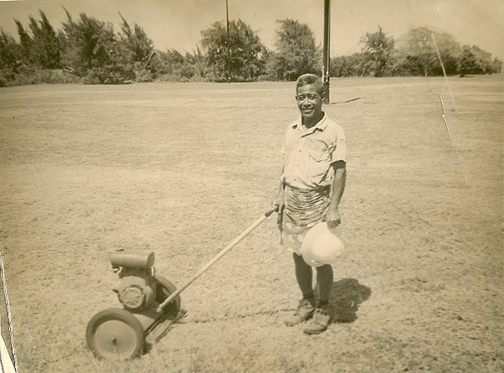 This is our groundskeeper whom we named Joe Booney. While mowing the field, Joe
would occasionally run into some unexploded ordinance from the war. We would
put it in an underground storage area until the Navy EOD team would come down
and denotate it.
Joe lived in the hills during the war and supposedly two Japanese soldiers came to his
hut and tried to kidnap his daughter. Joe fought them off and threw them both off
the mountain. (his story, not mine) I did believe him though. He was one tough guy!
Thanks Mike!