Operation Tight Rein
Project Officer: CAPT T. R. Sargent
Construction Detail:
CONSON - CONSON Web Page
LAMPANG - LAMPANG Web Page
CDR H. R. Block Commander, USCG Construction Detachment
LCDR M. J. Fontaine, USCG Electronics Engineer
LCDR A. E. Gerken, USCG Project Engineer
LCDR E. L. Crowell, USCG Resident Engineer
CHSPCK CWO B. W. Herbert, USCG Contracting Officer
Mr. Joe S.H. Ng - Director United Construction Company
SATTAHIP - SATTAHIP Web Page
TAN MY - TAN MY Web Page
LORAN Monitor Station UDORN - UDORN Web Page
13 DEC 1965 - 1966 LORAN Program (pdf)
Operation Tight Reign PDF featuring the oral historyies of Vice-Admiral Sargent, , CDR Ron Stenzel, and ET2 Chuck Zanti
LORAN Stations built in Vietnam and Thailand 1966 by Chris Dailey (pdf) 09 APR 2010
Update - LORAN Stations built in Vietnam and Thailand by Chris Dailey (pdf) 22 APR 2012
90th Congress 2nd Session REPORT ON A CONGRESSIONAL INVESTIGATION OF COAST GUARD OPERATIONS AND INSTALLATIONS IN THAILAND AND SOUTH VIETNAM
"PAVE NAIL" written by Darrel Whitcomb - contributed by Chris Dailey

Patch located on Fred's Place
Contributed by Roy L. Patterson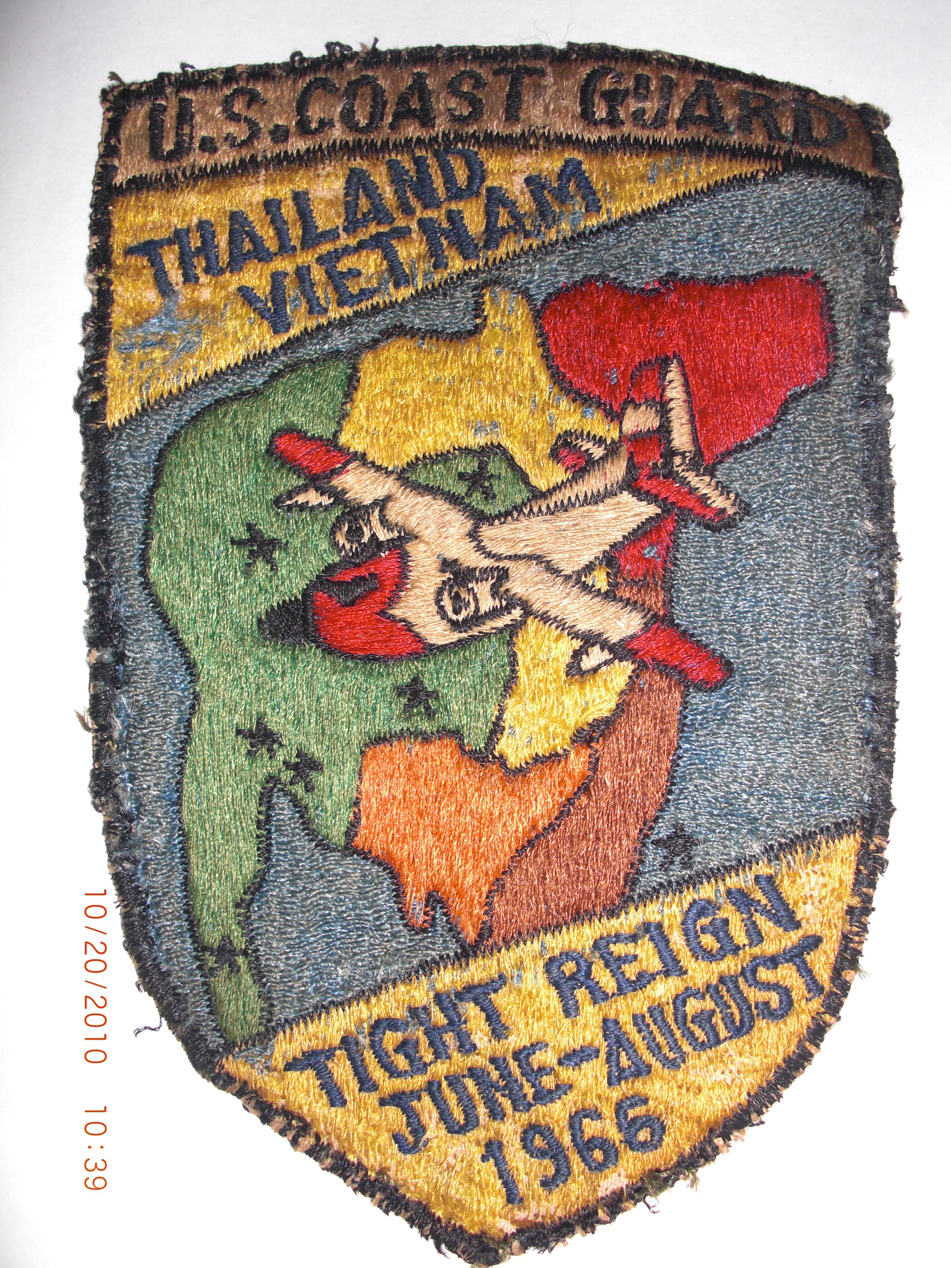 Photo below contributed by Rod Christian
Description provided by Chris Dailey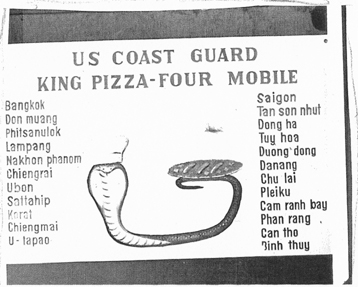 A little background on King-Pizza Four Mobile flyer.
To calibrate the SE Asia chain, they used a C130 with a Loran Monitor/Comm van onboard. We had comms with both the C130 flight deck and the Van techs inside, during the calibration runs. I believe the van was Pizza Four Mobile and the plane went by King-Pizza Four Mobile as we calibrated the chain. The locations noted on the flier were stops or area's that they "visited"?
Chris Dailey was station at Sattahip
The LORAN Calibration Monitoring Van
I was an ET with Squadron One in Da Nang when the van was at the air base there. It was eventually loaded aboard a Navy Destroyer Escort (USS Hooper DE-1026) and spent four days or so cruising the Gulf of Tonkin evaluating the chain.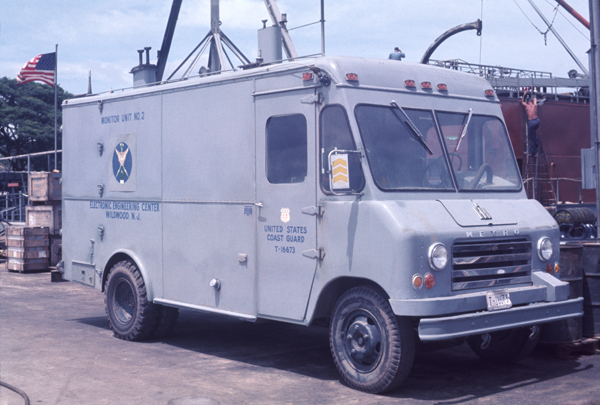 Loran monitoring van waiting loading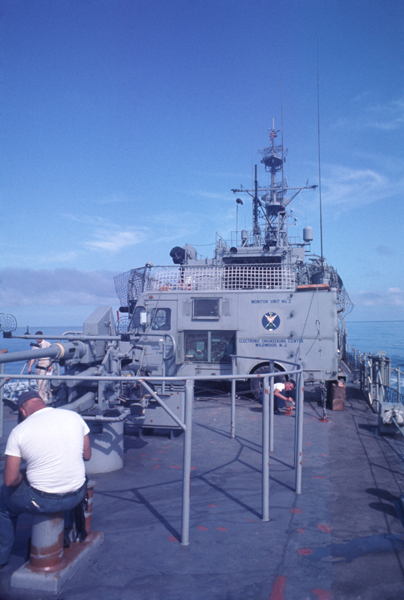 notice that the van was welded to the deck with cables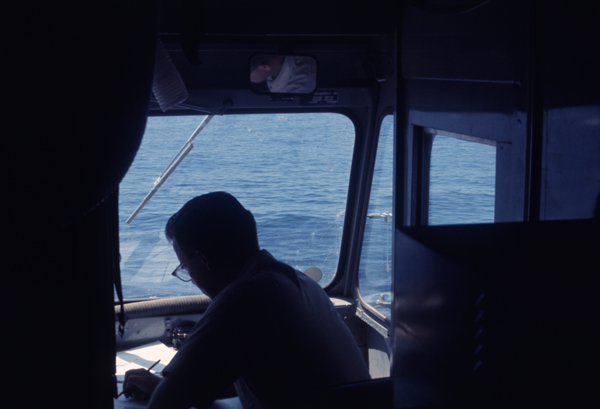 looking out of Loran monitoring van aboard USS HOOPER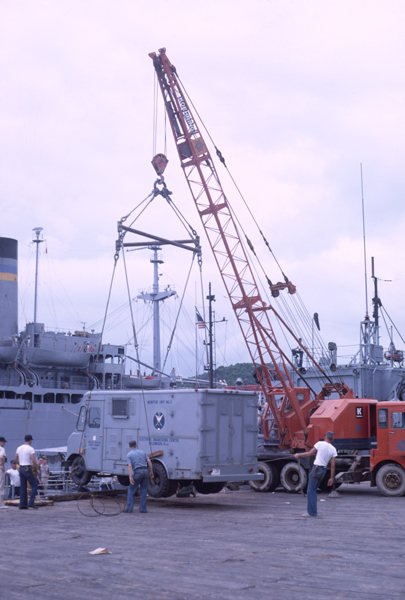 Offloading Loran monitoring van from USS HOOPER
A side note, we, well, they, did an underway replenishment during this, as I recall, four days, and the crew of the Hooper dressed up the van as a gedunk for the benefit of of the crew of the other ship. Nice to see in all of this a sense of humor. It appears, unfortunately, that I have no photographs of this.
Thanks Neol!