Welcome to Loran-History.info
In memory of ETC Joe Jester

These pages remember the Coast Guardsmen, who served aboard Loran-A, Loran-C stations, and other Loran billets worldwide. These dedicated Coasties are but a few who provided radio navigation signals to millions of navigators. These pages wouldn't exist except through the efforts of MCPO Bill Dietz, USCG(ret). Bill has spent numerous hours for over a score of years collecting the information you find here.
If you wish to add your information to the database, just fill out the Contact us form. Bill or I will update the list.
We are looking for pictures and stories. If you wish to contribute, please Contact Us.
Joe (February 13, 1953 - November 15, 2020)
---
Is there Loran items you have that need a home - I have such a home for documents, photos, rosters, manauls, Register of CG Officers or anything else related to loran. Please use contact us to send a short list of items that you would like to find a home for.

---
Update
10-31-21:

The last couple months I have been researching material for the McMullen Naval History Symposium LORAN presentation that CDR Gary Thomas and I presented. It was a wonderful experience and I had a great time. I will be updating the web site as time permits. Below is a link to a u-Tube video of the presentation along with Dr. Bill Thiesen's "150 years of Coast Guard Operations in Alaska and the Arctic" and Beth Crumley "Elmer F, "Archie" Stone: An Aviation Visionary" presentations.

https://www.youtube.com/watch?v=1o7dzk40_8I&list=PLU4vBnB2vX1XrZKwcmJPdbMXDUmrqj3dq&index=50

Also other Coast Guard presentations was given:

https://www.youtube.com/watch?v=V-q19MrF-lU&list=PLU4vBnB2vX1XrZKwcmJPdbMXDUmrqj3dq&index=19

https://www.youtube.com/watch?v=0jDJCZoyW2s&list=PLU4vBnB2vX1XrZKwcmJPdbMXDUmrqj3dq&index=35
November 16, 2020
It
is with sad news that I must post that Joe Jester crossed the bar on Sunday November 15, 2020. It was a great pleasure working with Joe on the Loran Program history. If it not for his efforts, this web site would not of happen. The Loran community greatly appreciates his contribution.
Update:

November 15, 2021 there will be a memorial for ETC Joe Jester USCG (ret) at the Dallas-Fort Worth National Cemetery. The ceremony will begin at 10 am and be for 15 minutes as that is the standard time allotted for each ceremony. Let's show our support for another Loranimal that went to the big Loran station in the sky. I hope to see you there.
UPDATE: Video of the funeral ceremony (click here)
- Bill
In the next couple months the site will reorganize and some links will not be working. Should you get a page error (HTTP Error 404.0 - Not Found) using a previous bookmark please go to the home page and select the web page you desire. - Bill
---
VETERANS ADMINISTRATION INFORMATION
Received this update from Bob Hinds CG Retiree Services Program Manager (CG-13)
For those CG Veterans/Retirees who served at LORAN Station Eniwetok Atoll.
The VA continues in efforts to study potential radiological effects of atomic testing and cleanup of Eniwetok Atoll. The administration reminds all Veterans to talk to their health care professional and file a claim with the VA if they believe they have health issues related to radiological exposure at Eniwetok Atoll. 
I believe that Johnston Island and French Frigate Shoals would fit into this study also.  - Bill
UPDATE: Received a message from DVA concerning Agent Orange in Thailand

---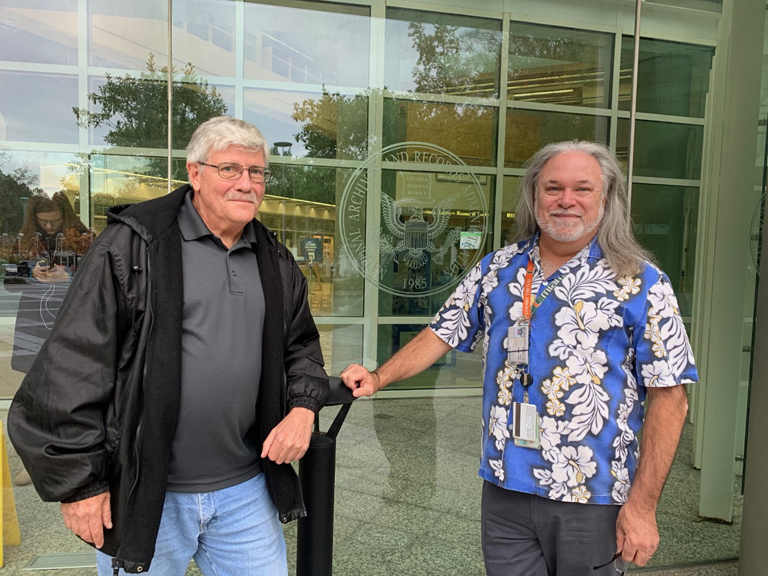 After a hard day's work of scanning
L to R: Bill and CDR Gary Thomas, USCG (ret.)
---
Loran Station GIS, a zipped google earth file with Loran Stations Locations by Michael Greene
---
Received this study (pdf) for distribution.
---
Received notice via an All Coast Guard message that Bill and I had received the Foundation for Coast Guard History's recipients of the Multimedia Award for this site. We are humbled by this recognition and thank the 1918 Foundation for the Multimedia Award.
---
USCG LORAN VETERANS FACEBOOK:
Ray is going a great job of hosting this and we support him temendously however the loran-history site and the Facebook group are two independent identities. If you would like to post something on either site the material should be sent to that site.
Bill
---
Thanks to Ray Rebmann Fred's Place Reunion Hall will be posted on each station page.
Completed: Adak, Angaur, Atafu, Attu, Barrigada, Batan, Biorka, Cape Atholl, Cape Christian, Cape Sarichef, Canton, Catanduanes, Eniwetok, Estaca de Vares, Estartit, French Frigate Shoals, Gesashi, Guam, Hokkaido, Ichi Hanare, Iwo Jima, Johnston Island, Kargabarun, Kauai, Kure Island, Kwajalein, Lampang, Lampedusa, LMS Kami Seya, LMS Keflauik, LMS Kodiak, LMS Rhodes, LMS Sardinia, LMS Shetlands, LMS Udorn, Marcus, Matratin, Matsumae, Miho, Miyako Jima, Molokai, Narrow Cape, Naulo Point, Niigata, Niihau, Nomaike, Ocean Cape, Oshima, Port Clarence, Pusan, Roguron, Saipan, Sattahip, Sellia Marina, Shoal Cove, Sitkinak, Spruce Cape, St Paul, Sylt, Upolu Point, USCGC KUKUI, Wildwood
---
Ray Rebmann asked to pass this info: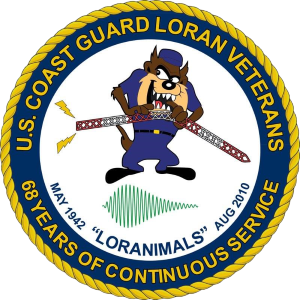 Loranimal patches are available. Visit this page to contact Ray. The actual patch is depicted on the contact page as well as the history behind the patch.
Facebook pages for Loran Veterans
USCG LORAN VETERANS GROUP USCG LORSTA VETERANS GROUP
---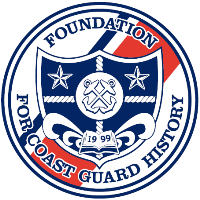 ---
"The View From the Top" - By CDR Carl Burkhart USCG (Ret) - pdf
(This article was published in CGA Alumni "The Bulletin",Vol 72, No 5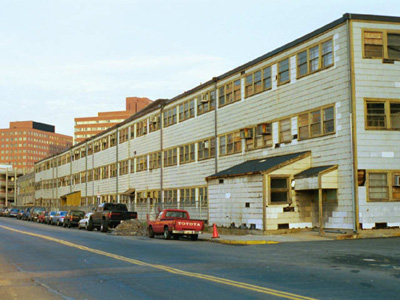 MIT Radiation Lab
MIT - Radiation Laboratory Series - Vol 4 - LORAN
Pierce, McKenzie, Woodward
What's new:
25 JAN 202 - Updated Wake Island
23 JAN 2022 - Updated Catanduanes
20 JAN 2022 - Revamped French Frigate Shoals
17 JAN 2022 - Updated the Personnel Roster
08 JAN 2022 - Updated the Personnel Roster
05 DEC 2021 - Revamped Port Clarence
25 NOV 2021 - Posted revamped Catanduanes, updated Personnel roster, The LRE Engineering Manual and the LRE Training Tapes (Under Loran C Tech Manuals)
21 NOV 2021 - Posted Roger Barns 1959-60 Sellia Marina photo collection
12 NOV 2021 - Revamped Sitkinak
24 OCT 2021 - Revamped Yap
17 OCT 2021 - Updated Personnel Roster
15 OCT 2021 - Revamped Sandy Hook
13 OCT 2021 - Updated Personnel Roster, Revamped San Mateo
04 OCT 2021 - Posted ETC Joe Jester USCG, (ret) memorial service details.
29 SEP 2021 - Updated Personnel Roster
15 AUG 2021 - Updated Personnel Roster
06 JUL 2021 - Updated Nantucket - added Bill Vlcek photos
27 JUN 2021 - Updated Personnel Roster
20 JUN 2021 - Posted Loran-C AN/FPN-42 Tech manuals
13 JUN 2021 - Updated Molokai - added Pat Simmons 1953 photos
31 MAY 2021 - Updated Personnel Roster
23 MAY 2021 - Updated Personnel roster; updated St. Matthew's information sheet; Revamped Ichi Banare (Ike Shima) web page plus added George Hollenack 1955 - 57 photo collection
05 MAY 2021 - Revamped Niigata
23 APR 2021 - Updated LMS Adak, LTS St. Matthew, Personnel Roster, added to Loran-A- Tech Manuals (AN/FPN-30, CU-277, T-325B), CG-222 JAN 1953 and AN/APN-9 Operating Instructions
06 APR 2021 - Updated Murder Point, Attu
04 APR 2021 - Updated Theodore Point, Attu
02 APR 2021 - Updated Personnel roster
23 MAR 2021 - Updated Personnel roster
21 MAR 2021 - Updated ATTU Casco Cove web page
26 FEB 2021 - Revamped Matratin
17 FEB 2021 - Revamped LMS Rhodes
14 FEB 2021 - Revamped Galveston; updated Personnel roster
08 FEB 2021 - Revamped Raymondville
07 FEB 2021 - Updated Personnel roster
06 FEB 2021 - Revamped Port Isabel
03 FEB 2021 - Revamped Spruce Cape
01 FEB 2021 - updated St. Matthew
31 JAN 2021 - Updated Ocean Cape with Jerry Gelfand 1967 crew photo and Ken Cochran additional photos;
updated Personnel roster
27 JAN 2021 - Revamped Hobe Sound
19 JAN 2021 - Revamped Folly Island; updated Personnel roster
16 JAN 2021 - Counter point to The Origins of the Loranimal by ETCS James Chandle submitted by John Hartzell (former ETCS) CWO ELC retired
10 JAN 2021 - Revised Bodie Island
07 JAN 2021 - Revised Cape Sarichef and LMS Sarichef
06 JAN 2021 - Added to Loran-C: 1962 Jansky&Bailey Loran-C report; a few Loran-C tech manuals
06 JAN 2021 - Revamped Cape Hatteras